iRobot Corporation (NASDAQ:IRBT)
Shares of IRBT skyrocketed on Tuesday's market activity after the company was upgraded from Market Perform to Strong Buy and price target of $39.00 by brokerage firm Raymond James.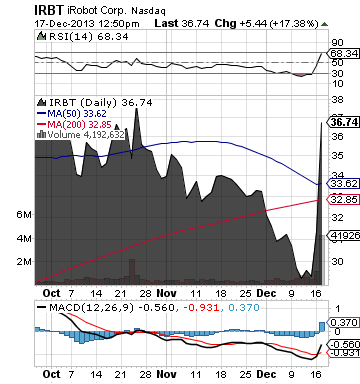 IRBT designs and builds robots that make a difference. IRBT's home robots help people find smarter ways to clean, its defense & security robots protect those in harm's way, and its remote presence robots enable virtual presence from anywhere in the world. IRBT's products feature proprietary technologies incorporating advanced concepts in navigation, mobility, manipulation and artificial intelligence
More about iRobot Corporation (IRBT) at www.irobot.com.
**
Read Full Disclaimer at www.doubleinstocks.com/disclaimer
Disclosure: I have no positions in any stocks mentioned, and no plans to initiate any positions within the next 72 hours.