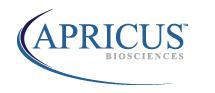 Apricus Biosciences, Inc. (NASDAQ:APRI)
Erectile dysfunction (NYSE:ED) is the inability to get or keep an erection firm enough for sexual-intercourse. ED can be a total inability to achieve an erection, an inconsistent ability to do so, or a tendency to sustain only brief erections. Its incidence increases with age.
ED usually has a physical cause, such as disease, injury, or side effects of drugs. Any disorder that causes injury to the nerves or impairs blood flow in the-penis has the potential to cause ED.
Smoking, drinking alcohol excessively, being overweight, and not exercising are possible causes of ED.
Psychological factors such as stress, anxiety, guilt, depression, low self-esteem, and fear of sexual failure can also cause ED. Even when ED has a physical cause, psychological factors may make the condition worse.
APRI reported that France's National Agency for Medicines and Health Products Safety (ANSM) has granted national phase approval to Vitaros(NYSE:R), indicated for the treatment of patients with erectile-dysfunction (ED).
APRI has now received a total of seven national phase approvals for Vitaros(R), including France, Germany, Ireland, Italy, the Netherlands, Sweden and the United Kingdom, following its broad approval by European health authorities in June 2013.
According to APRI, Vitaros(R) is expected to become the first new and novel ED product launched in nearly a decade, and with its unique product profile that addresses a large number of patients who cannot or do not respond well to the existing therapies, or who are intolerant to the systemic effects of PDE-5 inhibitors, is well-positioned for commercial success.
APRI's Vitaros(R) has been approved for the treatment of ED by the European health authorities and by Health Canada. Vitaros(R) is a topically-applied cream formulation of alprostadil, a vasodilator, combined with the company's proprietary permeation enhancer DDAIP.HCl, which directly increases blood flow to the-penis, causing an-erection.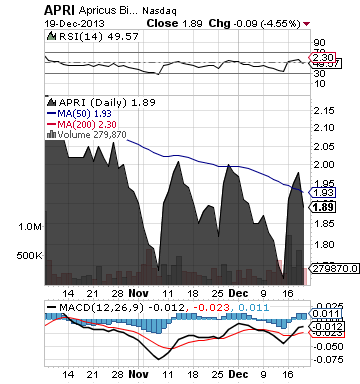 APRI is a pharmaceutical company that develops and markets through its licensing partners innovative treatments that have the potential to help large patient populations across numerous, large-market therapeutic classes including male and female sexual-health.
More about Apricus Biosciences, Inc. (APRI) at www.apricusbio.com.
**

Red Hat, Inc. (NYSE:RHT)
For the third quarter of its fiscal 2014, RHT posted total revenue of $397 million, a 15% increase year over year, GAAP operating income of $61 million, up 22% versus the same period the prior year, and net income of $52 million, or $0.27 per diluted share, compared with $35 million, or $0.18 per diluted share, in the third quarter of its fiscal 2013.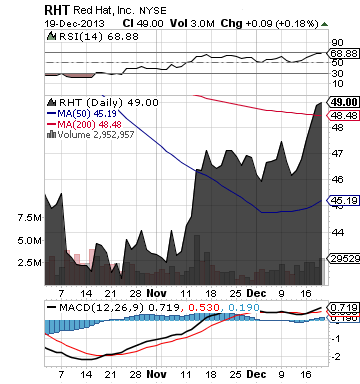 RHT is the world's leading provider of open source software solutions, using a community-powered approach to reliable and high-performing cloud, Linux, middleware, storage and virtualization technologies.
More about Red Hat, Inc. (RHT) at www.redhat.com.
**
Read Full Disclaimer at www.pennyomega.com/disclaimer
Disclosure: I have no positions in any stocks mentioned, and no plans to initiate any positions within the next 72 hours.