ImmunoCellular Therapeutics, Ltd. (NYSEMKT:IMUC)
A brain tumor is an abnormal growth of tissue in the brain or central spine that can disrupt proper brain function.
Nearly 700,000 people in the United States are living with a primary brain tumor, and more than 69,000 others will be diagnosed this year (Source: National Brain Tumor Society). Brain tumors are often deadly, impact quality of life, and change everything for patients and their loved ones.
Glioblastomas are tumors that arise from astrocytes (the star-shaped cells that make up the "glue-like," or supportive tissue of the brain), generally found in the cerebral hemispheres of the brain, but can be found anywhere in the brain or spinal cord.
Glioblastomas are usually highly malignant-a large number of tumor cells are reproducing at any given time, and they are nourished by an ample blood supply. Dead cells may also be seen, especially toward the center of the tumor. Because these tumors come from normal brain cells, it is easy for them to invade and live within normal brain tissue.
Glioblastoma multiforme is both the most common and lethal of all primary brain tumors.
IMUC reported that the first patient in the phase I clinical trial of ICT-121, a cancer vaccine targeting recurrent glioblastoma multiforme (GBM, or brain cancer), has received the vaccine. ICT-121 is a dendritic cell vaccine targeting CD-133, an important cancer stem cell marker that is commonly expressed on a broad range of solid tumors.
The investigator-sponsored phase I trial is being conducted at Cedars-Sinai Medical Center in Los Angeles, CA. IMUC is supporting the trial by providing the ICT-121 vaccine.
According to IMUC, its ICT-107 is the first immunotherapy in a well-designed and placebo-controlled trial to demonstrate safety and a treatment effect in newly diagnosed GBM, a disease for which nothing has been approved in the US since temozolomide in 2005.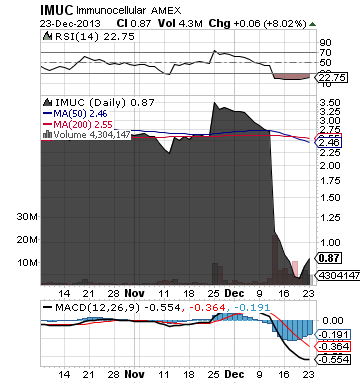 IMUC is a clinical-stage company that is developing immune-based therapies for the treatment of brain and other cancers. IMUC is conducting a phase II trial of its lead product candidate, ICT-107, a dendritic cell-based vaccine targeting multiple tumor-associated antigens for glioblastoma. IMUC's pipeline also includes ICT-121, a dendritic cell vaccine targeting CD133, and ICT-140, a dendritic cell vaccine targeting ovarian cancer antigens and cancer stem cells.
More about ImmunoCellular Therapeutics, Ltd. (IMUC) at www.imuc.com
**
Read Full Disclaimer at www.pennyomega.com/disclaimer
Disclosure: I have no positions in any stocks mentioned, and no plans to initiate any positions within the next 72 hours.