Rocket Fuel Inc. (NASDAQ:FUEL)
FUEL reported that it had entered into a $100 million syndicated credit facility led by Comerica Bank on December 20, 2013. The syndicate also includes Silicon Valley Bank and City National Bank. This credit facility amends and restates FUEL's existing Loan and Security Agreement dated April 7, 2010.
With the amended facility, FUEL's liquidity reserves comprising cash and committed credit facilities will help support future growth and financial flexibility for FUEL in the coming years.
The facility is available to fund working capital growth, capital expenditures, and other general corporate purposes. The facility expires on December 20, 2018 with respect to term loans and on December 20, 2016 with respect to revolving loans.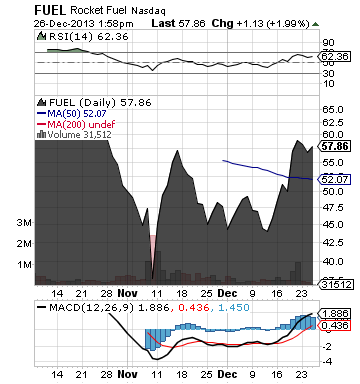 FUEL delivers a leading programmatic media-buying platform at Big Data scale that harnesses the power of artificial intelligence (NYSE:AI) to improve marketing ROI in digital media across web, mobile, video, and social channels.
More about Rocket Fuel Inc. (FUEL) at www.rocketfuel.com
**
Read Full Disclaimer at www.pennygovernance.com/disclaimer
Disclosure: I have no positions in any stocks mentioned, and no plans to initiate any positions within the next 72 hours.