Shares of Westlake Chemical Corp. (NYSE:WLK) climbed slightly $2.34 (or +1.98%) to $120.64 on Friday's trading session. The company was upgraded from Neutral to Positive by brokerage firm Susquehanna Securities.
WLK reported that it has started-up its new chlor-alkali plant located at its vinyls manufacturing complex in Geismar, Louisiana.
This new chlor-alkali plant has the capacity to produce 350,000 electrochemical units (ECU's) annually and utilizes state of the art membrane technology. The plant is adjacent to the existing vinyl chloride monomer (VCM) and polyvinyl chloride (PVC) facilities at the Geismar complex and has added approximately 70 full-time positions at the site.
When combined with the existing membrane chlor-alkali capacity at the Calvert City, Kentucky vinyls complex, WLK will have the ability to produce up to 650,000 ECU's annually at these two sites to meet ongoing customer needs.
The addition of this new plant is consistent with WLK's vertical integration strategy for its vinyls business and will allow the company to continue to expand and optimize the vinyls chain, including the anticipated addition of 200mm pounds per year of PVC at its Calvert City PVC plant during the second quarter of 2014.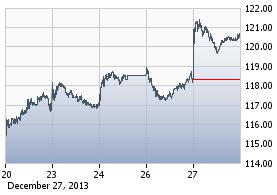 WLK is a manufacturer and supplier of petrochemicals, polymers and building products. Its range of products includes: ethylene, polyethylene, styrene, propylene, caustic, VCM, PVC resin and PVC building products including pipe and specialty components, windows and fence.
More about Westlake Chemical Corporation (NYSE:WLK) at www.westlake.com.
**
Read Full Disclaimer at www.pennyomega.com/disclaimer
Disclosure: I have no positions in any stocks mentioned, and no plans to initiate any positions within the next 72 hours.