BIOLASE, Inc. (NASDAQ:BIOL)
Over the past few years, the number of dentists in Canada has increased significantly, mainly as a result of a rise in the demand for services offered by dentists, as well as labour pool growth. According to Service Canada, the number of dentists is expected to continue to increase significantly over the coming years.
BIOL reported that it has received a license from the Health Canada-Medical Device Bureau to sell its EPIC dental soft-tissue diode laser systems throughout Canada. BIOL sells its products in Canada through a direct sales force and select distributors.
BIOL expects the Canadian market to be a strong contributor to its growth in 2014 with the ability to sell its newly cleared flagship EPIC 10-watt soft-tissue diode laser in addition to its revolutionary WaterLase iPlus.
BIOL's EPIC(NYSE:TM) is the only diode laser in the USA cleared for three unique therapy modes - Soft Tissue Surgery, Whitening, and Pain Therapy.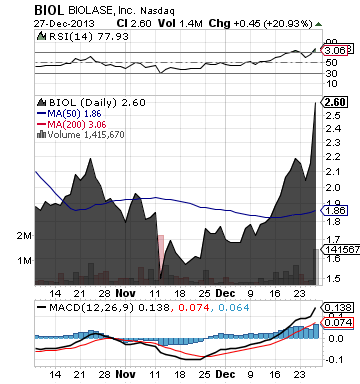 BIOL is a biomedical company that develops, manufactures, and markets innovative lasers in dentistry and medicine and also markets and distributes high-end 2D and 3D digital imaging equipment and CAD/CAM intraoral scanners and in-office milling machines; products that are focused on technologies that advance the practice of dentistry and medicine. BIOL's proprietary laser products incorporate approximately 300 patented and patent-pending technologies designed to provide biologically clinically superior performance with less pain and faster recovery times.
More about BIOLASE, Inc. (BIOL) at www.biolase.com.
**

BioCryst Pharmaceuticals, Inc. (NASDAQ:BCRX)
The Ebola and Marburg viruses are the sole members of the Filoviridae family of viruses. They are characterized by a long filamentous form that is unique in the viral world. Filoviruses are among the most virulent pathogens currently known to infect humans. They cause fulminating disease characterized by acute fever followed by generalized hemorrhagic syndrome that is associated with 90% mortality in the most severe forms.
BCRX reported that the National Institute of Allergy and Infectious Diseases (NIAID) has exercised an option to conduct the investigational new drug (NYSE:IND) enabling program and to submit an IND. This option represents an additional $2.5 million to BCRX in order to advance the development of BCX4430 as a treatment for Marburg virus disease.
NIAID, part of the National Institutes of Health, granted an initial award of $5.0 million to BCRX in September 2013. The total funding could be up to $22.0 million over five years and advance the program through Phase 1 trials, if all contract options are exercised.
The goals of this contract are to file IND applications for intravenous and intramuscular BCX4430 for the treatment of Marburg virus disease, and to conduct Phase 1 human clinical trials.
BCX4430 is the lead compound in the BCRX's Broad Spectrum Antiviral (BSAV) program. The objective of the BSAV program is to develop broad-spectrum parenteral and oral therapeutics for viruses that pose a threat to health and national security.
BCRX is developing BCX4430 in collaboration with U.S. Government Agencies following the Animal Rule regulatory pathway.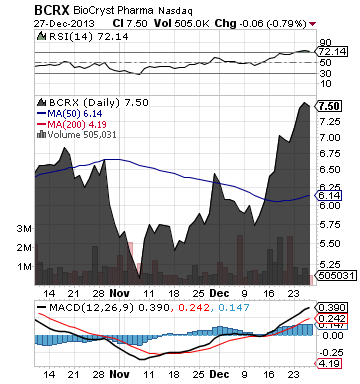 BCRX designs, optimizes and develops novel small molecule-drugs that block key enzymes involved in infectious and rare diseases, with the goal of addressing unmet medical needs of patients and physicians.
More about BioCryst Pharmaceuticals, Inc. (BCRX) at www.BioCryst.com.
**
Read Full Disclaimer at www.pennyomega.com/disclaimer
Disclosure: I have no positions in any stocks mentioned, and no plans to initiate any positions within the next 72 hours.