China Sunergy Co. Ltd. (NASDAQ:CSUN)
Shares of CSUN surged on Monday's trading session, after the company reported that it has completed the sale of a solar farm project to Lightsource Renewable Energy Ltd., which is a UK's leading solar energy generator. The Project, located in the southwest of Cornwall in the United Kingdom (NASDAQ:UK) was connected to the grid at the end of March of this year and now generates enough local green electricity to power over 1500 households.
The Project was completed on land that has traditionally been farmed with a rotation of cattle and crops. Whilst the area used for energy generation covers only 10% of the farm area, income from the Project will provide the farm owners with funds to make other areas of the farm more productive, including improved machinery, fencing and hedgerows. The agricultural output from the whole farm will remain similar to the pre-development scenario.
The sale of this first UK project marks a major milestone for CSUN in relation to its downstream business, and also strengthens its confidence in investing and developing a project pipeline in other markets.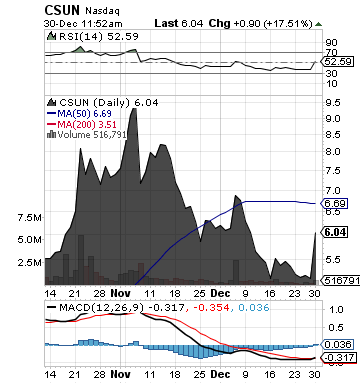 CSUN designs, manufactures and delivers high efficiency solar cells and modules to the world from its production centers based in China and Turkey.
More about China Sunergy Co. Ltd. (CSUN) at www.csun-solar.com.
**
Read Full Disclaimer at www.mikezaman.com/disclaimer
Disclosure: I have no positions in any stocks mentioned, and no plans to initiate any positions within the next 72 hours.