Electromed, Inc. (NYSEMKT:ELMD)
Shares of ELMD soared on Monday's trading session, after the company reported that it has received notification from the U.S. FDA that its next generation SmartVest(NYSE:R) Airway Clearance System, the model SQL(NYSE:TM) has been cleared to market.
The model SQL is an electrically powered precursor device designed to deliver high frequency chest wall oscillation (HFCWO) to promote airway clearance, improve bronchial drainage and enhance mucus transport under the order of a physician's prescription. It is prescribed to patients with a wide range of pulmonary-related health conditions including bronchiectasis, chronic obstructive pulmonary disease, cystic fibrosis, muscular dystrophy, and cerebral palsy.
HFCWO has been demonstrated to reduce lung infections and reduce health care costs associated with recurrent pneumonias, antibiotic use, and hospital stays. In addition to the innovative SQL generator, the system boasts a lightweight soft-fabric garment with several patented features.
ELMD anticipates that the model SQL will be available to the U.S. market within the next 60 days.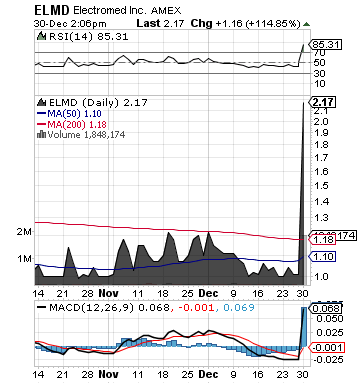 ELMD manufactures, markets, and sells products that provide airway clearance therapy, including the SmartVest(R) Airway Clearance System, to patients with compromised pulmonary function.
More about Electromed, Inc. (ELMD) at www.electromed.com
**
Read Full Disclaimer at www.drstockpick.com/disclaimer
Disclosure: I have no positions in any stocks mentioned, and no plans to initiate any positions within the next 72 hours.