Safeguard Scientifics, Inc. (NYSE:SFE) reported that its partner company ThingWorx, Inc. was acquired by PTC Inc. for approximately $112 million, plus an earn-out of up to $18 million. SFE expects to receive aggregate cash proceeds of $40.5 million, representing a 4x cash-on-cash return. Approximately $4.1 million of such proceeds will be held in escrow pending the expiration of an escrow period expiring December 30, 2015.
SFE has the opportunity to receive up to an additional $6.5 million based on certain milestones achieved over future periods. This would increase SFE's total return to approximately $47.0 million, representing a 4.7x cash on cash return.
Shares of SFE climbed slightly $0.13 (or +0.70%) to $18.73 on Monday's trading session.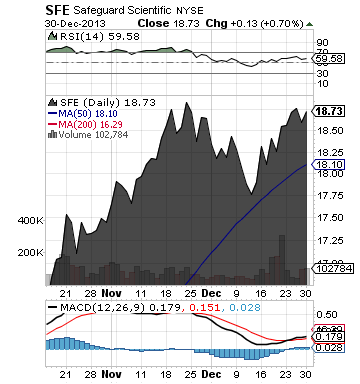 SFE has a distinguished record of building market leaders by providing capital and operational support to entrepreneurs across an evolving and innovative spectrum of industries. Today, SFE healthcare and technology companies in medical technology such as devices and diagnostics, healthtech, specialty pharmaceuticals, financial technology, digital media, and Enterprise 3.0.
More about Safeguard Scientifics, Inc. (SFE) at www.safeguard.com.
**
Read Full Disclaimer at www.mikezaman.com/disclaimer
Disclosure: I have no positions in any stocks mentioned, and no plans to initiate any positions within the next 72 hours.