China Finance Online Co. Limited (NASDAQ:JRJC)
On its financial results, JRJC reported its third consecutive quarter of revenue growth.
For the third quarter 2013, JRJC posted net revenues of $13.2 million compared with $7.2 million in the same period the prior year, and up from $7.6 million in the previous quarter, and gross profit of $11.4 million compared with $5.5 million for the third quarter in 2012, and $5.2 million in the second quarter of 2013.
Net loss attributable to JRJC improved to $1.6 million, compared with a net loss of $3.2 million in the third quarter of 2012, and a net loss of $4.5 million in the second quarter of 2013.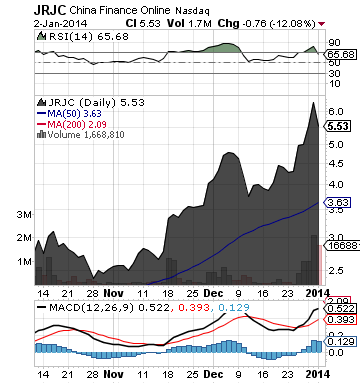 JRJC is a technology-driven, user-focused market leader in China in providing vertically integrated financial information and services.
More about China Finance Online Co. Limited (JRJC) at www.jrj.com
**

Global Geophysical Services, Inc. (GGS)
GGS reported that its wholly-owned subsidiary Autoseis, Inc., has entered into a cooperation agreement with Seismic Equipment Solutions, a leading provider of seismic equipment rental and leasing solutions.
Seismic Equipment Solutions, which has committed to acquire and market the Company's AutoSeis(NYSE:R) high definition recorder systems, placed a $9.5 million order for an AutoSeis HDR nodal system comprised of 20,000 single-channel units and other related equipment.
GGS' Autoseis, Inc. designs and manufactures instruments used by the oil and gas industry to acquire seismic data for the purpose of locating, characterizing and monitoring hydrocarbon reservoirs.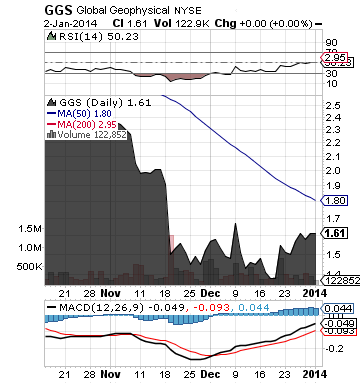 GGS provides an integrated suite of geoscience and engineering solutions to the global oil and gas industry including high-resolution, Reservoir Grade(NYSE:TM) seismic data acquisition services, AutoSeis(R) autonomous nodal recording instrumentation, seismic data processing, microseismic monitoring, multi-client data products and interpretation services focused on unconventional consulting.
More about Global Geophysical Services, Inc. (GGS) at www.GlobalGeophysical.com.
**

Goldfield Corp. (NYSEMKT:GV)
GV reported that its wholly owned subsidiary, Power Corporation of America, signed a Stock Purchase Agreement to purchase the stock of C and C Power Line, Inc., a privately-held union electrical construction company with annual revenue of approximately $15 million in 2012. The transaction is expected to close in early January, subject to satisfaction of customary closing conditions.
According to the company, the acquisition of C and C will strengthen its electrical construction capabilities, opening opportunities for GV to expand its revenue base and geographic footprint into areas previously not available for the Company.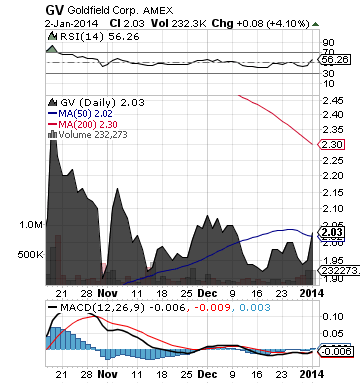 GV is a leading provider of electrical construction and maintenance services in the energy infrastructure industry, primarily in the southeastern, mid-Atlantic, and western regions of the United States. GV specializes in installing and maintaining electrical transmission lines for a wide range of electric utilities.
More about Goldfield Corp. (GV) at www.goldfieldcorp.com
**
Read Full Disclaimer at www.pennyomega.com/disclaimer
Disclosure: I have no positions in any stocks mentioned, and no plans to initiate any positions within the next 72 hours.