Micron Technology, Inc., (NASDAQ:MU)
Shares of MU surged on Wednesday's trading session, after the company reported its financial results.
For the first quarter of fiscal 2014, MU posted revenues of $4.04 billion, a 120% increase year over year, and GAAP net income attributable to MU shareholders of $358 million, or $0.30 per diluted share, compared to GAAP net loss of ($275) million, or ($0.27) per diluted share in the same period the prior year.
Cash flows from operations for the first quarter of fiscal 2014 were $1.51 billion, while investments in capital expenditures were $669 million. MU ended the first fiscal quarter with cash and marketable investments of $4.41 billion.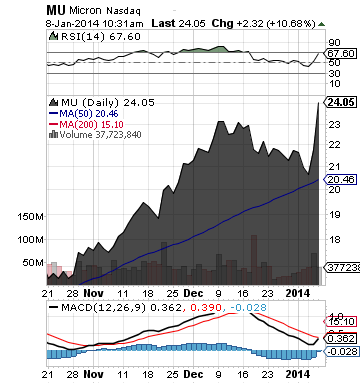 MU, together with its subsidiaries, manufactures and markets semiconductor solutions worldwide
More about Micron Technology, Inc., (MU) at www.micron.com
**
Read Full Disclaimer at www.mikezaman.com/disclaimer
Disclosure: I have no positions in any stocks mentioned, and no plans to initiate any positions within the next 72 hours.