Sangamo BioSciences, Inc. (NASDAQ:SGMO)
Hemoglobinopathies is the medical term for a group of blood disorders and diseases that affect red blood cells.
Mutations in the genes encoding beta-globin, a subunit of the oxygen-carrying protein of red blood cells, lead to the hemoglobinopathies Sickle Cell Disease (NYSE:SCD) and beta-thalassemia.
The mutation in beta-globin that gives rise to SCD causes the red blood cells to form an abnormal sickle or crescent shape making them adherent, fragile and less able to deliver oxygen to tissues, and they can become lodged in small blood vessels and interrupt healthy blood flow. These problems further decrease the amount of oxygen flowing to body tissues.
Almost all patients with SCD have painful episodes (called crises), which can last from hours to days, and have progressive organ damage, resulting in shortened lifespan. Current standard of care is to manage and control symptoms, and to limit the number of crises. Current treatments, including blood transfusions, iron-chelation therapy and administration of hydroxyurea, pain medications and antibiotics, do not address the underlying cause of disease, and life expectancy remains substantially reduced in patients with SCD.
The Centers for Disease Control and Prevention (NASDAQ:CDC) estimates that there are currently 90,000 to 100,000 Americans living with SCD which occurs in approximately 1 out of every 500 African-American births and 1 out of every 36,000 Hispanic-American births.
Biogen Idec and SGMO reported an exclusive worldwide collaboration and license agreement focused on the development of therapeutics for hemoglobinopathies.
The agreement will enable Biogen Idec to further enhance its expertise in non-malignant hematology by leveraging SGMO's proprietary genome-editing technology platform to develop treatments targeting sickle cell disease (SCD) and beta-thalassemia.
Biogen Idec will provide SGMO with an upfront payment of $20 million and will reimburse SGMO for its internal and external research and development program-related costs. SGMO may also receive additional payments of approximately $300 million based on the achievement of certain development, regulatory, commercialization and sales milestones, as well as double digit royalties on product sales.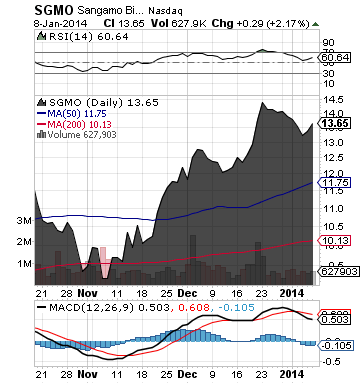 SGMO is focused on research and development of novel DNA-binding proteins for therapeutic gene regulation and genome editing.
More about Sangamo BioSciences, Inc. (SGMO) at www.sangamo.com.
**

Sequenom Inc. (NASDAQ:SQNM)
Aneuploidy is a term used to describe a chromosome problem that is caused by an extra or missing chromosome. The most commonly known example of aneuploidy is Down syndrome, which is caused by an extra copy of chromosome 21.
Chromosomes are the structures in our cells that carry our genetic information (genes). Typically, we have 46 chromosomes in each of our cells. The chromosomes come in pairs (23 pairs in total); one copy of each chromosome is inherited from the egg, and the other copy is inherited from the sperm. Cells/embryos with 46 chromosomes are called euploid (correct chromosome number). If an egg or sperm is missing a chromosome or has an extra chromosome , this situation is referred to as aneuploid (incorrect chromosome number). (Source: Reproductive Genetics Institute)
SQNM reported that on January 1, 2014, the European Patent Office (EPO) issued patent EP2183693 B1, entitled "Diagnosing Fetal Chromosomal Aneuploidy Using Genomic Sequencing," invented by Drs. Dennis Lo, Rossa Chiu, and Kwan Chee Chan of The Chinese University of Hong Kong. The patent claims novel methods for detecting fetal aneuploidy using sequencing and was the first patent filing made in the EPO directed to such novel methods.
SQNM holds exclusive rights to the patent, an important part of SQNM's prenatal diagnostic patent portfolio, with coverage across all countries in the European Union, and also including Liechtenstein, Monaco, Norway and Switzerland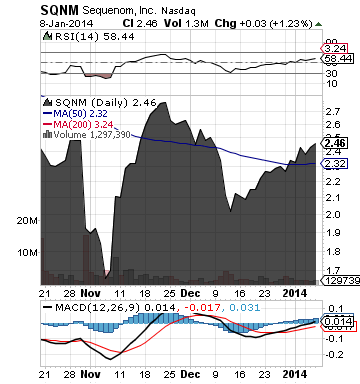 SQNM is a life sciences company committed to improving healthcare through revolutionary genomic and genetic analysis solutions. SQNM develops innovative technology, products and diagnostic tests that target and serve discovery and clinical research, and molecular diagnostic markets.
More about Sequenom Inc. (SQNM) at www.sequenom.com
**
Read Full Disclaimer at www.pennyomega.com/disclaimer
Disclosure: I have no positions in any stocks mentioned, and no plans to initiate any positions within the next 72 hours.