Chelsea Therapeutics International, Ltd. (NASDAQ:CHTP)
Symptomatic neurogenic orthostatic hypotension (nOH) is a chronic disorder that is caused by an underlying neurogenic disorder, such as Parkinson's disease, multiple system atrophy or pure autonomic failure.
Symptoms of nOH include dizziness, lightheadedness, blurred vision, fatigue, poor concentration, and fainting episodes when a person assumes a standing position. These symptoms often severely limit a person's ability to perform routine daily activities that require standing or walking for both short and long periods of time.
It is estimated that nearly 300,000 patients suffer from chronic symptomatic nOH in the U.S. and EU combined.
CHTP reported that the FDA Cardiovascular and Renal Drugs Advisory Committee (CRDAC) voted 16-1 to recommend approval of NORTHERA(NYSE:TM) (droxidopa) for the treatment of symptomatic neurogenic orthostatic hypotension (nOH) in patients with primary autonomic failure (Parkinson's disease, multiple system atrophy and pure autonomic failure), dopamine beta hydroxylase deficiency and non-diabetic autonomic neuropathy.
The FDA is not bound by the CRDAC's recommendation but will take it into consideration when reviewing the New Drug Application (NDA) for Northera. A Prescription Drug User Fee Act (PDUFA) action date for the Northera NDA has been scheduled for February 14, 2014.
CHTP acquired global development and commercialization rights to droxidopa (L-DOPS), or NORTHERA, from Dainippon Sumitomo Pharma Co., Ltd. in 2006, excluding Japan, Korea, China and Taiwan.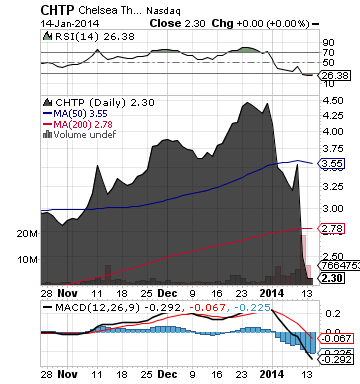 CHTP is a biopharmaceutical development company that acquires and develops innovative products for the treatment of a variety of human diseases, including central nervous system disorders.
More about Chelsea Therapeutics International, Ltd. (CHTP) at www.chelseatherapeutics.com
**

Sequenom Inc. (NASDAQ:SQNM)
SQNM reported that its wholly owned subsidiary, Sequenom Laboratories, entered into an agreement to offer access to its MaterniT21(TM) PLUS laboratory-developed test to Mayo Medical Laboratories.
Estimates suggest there are about 750,000 pregnancies at high risk for fetal chromosomal abnormalities each year in the United States.
SQNM's Sequenom Laboratories was the first to market a noninvasive prenatal laboratory-developed test for fetal chromosomal aneuploidies.
The MaterniT21 PLUS test analyzes the relative amount of 21, 18, 13, as well as X and Y chromosomal material in cell-free DNA. The test also reports additional findings for the presence of subchromosomal microdeletions and duplications which complement the MaterniT21 PLUS test core findings. The test is intended for use in pregnant women at increased risk for fetal chromosomal abnormalities and is indicated for use as early as 10 weeks' gestation.
According to its preliminary 2013 performance results (unaudited), SQNM posted total revenue of approximately $162 million, an 81% increase year over year. Total cash, cash equivalents and marketable securities as of December 31, 2013 were approximately $71 million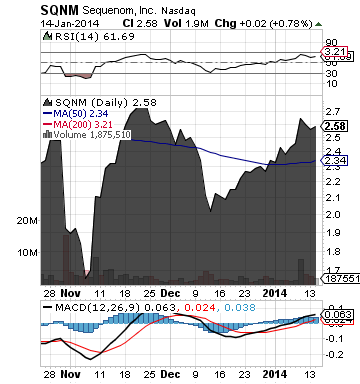 SQNM is a life sciences company committed to improving healthcare through revolutionary genomic and genetic analysis solutions.
More about Sequenom Inc. (SQNM) at www.sequenom.com
**
Read Full Disclaimer at www.pennyomega.com/disclaimer
Disclosure: I have no positions in any stocks mentioned, and no plans to initiate any positions within the next 72 hours.