Medivation Inc. (NASDAQ:MDVN)
Prostate cancer forms in tissues of the prostate (a gland in the male reproductive system found below the bladder and in front of the rectum). It usually occurs in older men.
The prostate surrounds the urethra, the tube through which urine flows. A healthy prostate is about the size of a walnut. If the prostate grows too large, it squeezes the urethra. This may slow or stop the normal flow of urine.
Because we have screening for prostate cancer, most of the time it is caught before it spreads to other parts of the body. Men who have prostate cancer that is characterized as localized or regional are not as likely to die as men whose cancer is distant.
For cancer to become metastatic, individual cancer cells need to break away from the original tumor and move to a blood or lymph vessel. Once there, they circulate through the body. The cells finally stop in capillaries -- tiny blood vessels -- at some distant location.
The cells then break through the wall of the blood vessel and attach to whatever tissue they find. They then need to multiply and grow new blood vessels to supply nutrients to the new tumor. Prostate cancer prefers to grow in specific areas, such as lymph nodes or in the ribs, pelvic bones, and spine.
Prostate cancer is the second leading cause of cancer death in American men, behind only lung cancer. About 50% of men diagnosed with local prostate cancer will develop metastatic cancer during their lifetime. Finding cancer early and treating it can help reduce that rate.
MDVN and Astellas Pharma Inc. reported final results on the primary and secondary efficacy endpoints from the Phase 3 PREVAIL trial of enzalutamide in patients with chemotherapy-naïve metastatic prostate cancer who have failed androgen deprivation therapy and have few or no symptoms.
Data will be shared in a late-breaking oral presentation at the upcoming American Society of Clinical Oncology 2014 Genitourinary Cancers Symposium in San Francisco on Thursday, January 30, 2014.
According to Tomasz M. Beer, M.D., F.A.C.P co-principal investigator of the PREVAIL study, the results demonstrate for the first time a statistically significant reduction both in the risk of death and a delay in cancer progression in men with metastatic prostate cancer who have a rising PSA (Prostate-Specific Antigen ) and few, if any, symptoms.
The Phase 3 PREVAIL trial enrolled more than 1,700 patients with metastatic prostate cancer whose disease progressed despite treatment with androgen deprivation therapy and had not yet received chemotherapy.
Enzalutamide is an androgen receptor inhibitor that acts on different steps in the androgen receptor signaling pathway. MDVN and its collaboration partner, Astellas, is developing enzalutamide for multiple stages of prostate cancer and for breast cancer.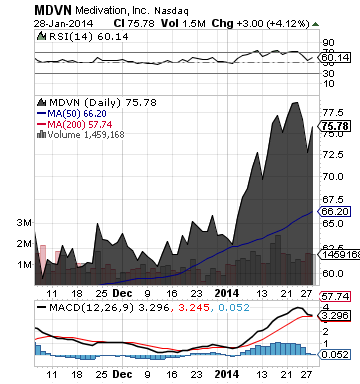 MDVN is a biopharmaceutical company focused on the rapid development of novel small molecule drugs to treat serious diseases for which there are limited treatment options.
More about Medivation Inc. (MDVN) at www.medivation.com
**

Rambus Inc. (NASDAQ:RMBS)
RMBS reported thatit has enhanced its LabStation(NYSE:TM) validation platform to address the latest challenges of complex IP design and integration.
The comprehensive test environment provides customers with a tool suite to validate advanced low-power, high-performance memory systems including LPDDR4/3, R+(TM) LPDDR3, DDR4/3, and R+ DDR4.
LabStation is available as part of RMBS' memory and serial link IP core solutions to help customers enhance quality and reduce time-to-market of their chips and systems.
Recently, RMBS was upgraded from Neutral to Buy and price target of $12.00 per share by brokerage firm Citigroup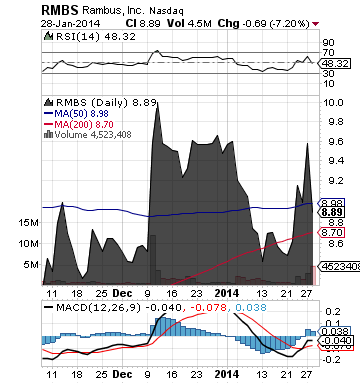 RMBS brings invention to market. Its customizable IP cores, architecture licenses, tools, services, and training improve the competitive advantage of its customer's products while accelerating their time-to-market.
More about Rambus Inc. (RMBS) at www.rambus.com.
**
Read Full Disclaimer at www.pennyomega.com/disclaimer
Disclosure: I have no positions in any stocks mentioned, and no plans to initiate any positions within the next 72 hours.