Oramed Pharmaceuticals Inc. (NASDAQ:ORMP)
Insulin is a hormone produced in the pancreas by special cells, called beta cells. The pancreas is behind the stomach. Insulin is needed to move blood sugar (glucose) into cells. There, it is stored and later used for energy
Diabetes is a group of diseases marked by high levels of blood glucose resulting from defects in insulin production, insulin action, or both. Diabetes can lead to serious complications and premature death, but people with diabetes can take steps to control the disease and lower the risk of complications.
Type 2 diabetes, characterized by high blood glucose in the context of insulin resistance and relative insulin deficiency, is the most common form of diabetes, affecting 90% to 95% of the 26 million Americans with diabetes.
ORMP reported results from its Phase 2a clinical trial for its ORMD-0801 oral insulin capsule for the treatment of type 2 diabetes.
The Phase 2a study, conducted under an FDA Investigational New Drug protocol, met all primary and secondary endpoints.
ORMP's ORMD-0801 is an orally ingestible insulin capsule for the early stages of type 2 diabetes, when it can still slow the rate of degeneration of the disease by providing additional insulin to the body and allowing pancreatic respite. Moreover, orally administered insulin has the potential benefit of enhanced patient compliance at this crucial stage as well as the advantage of mimicking insulin's natural location and gradients in the body by first passing through the liver before entering the bloodstream.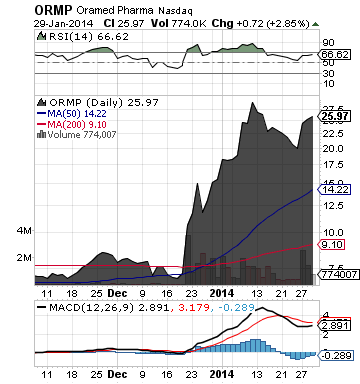 ORMP is a technology pioneer in the field of oral delivery solutions for drugs and vaccines currently delivered via injection.
More about Oramed Pharmaceuticals Inc. (ORMP) at www.oramed.com
**
Mecox Lane Limited (NASDAQ:MCOX)
Keep a close eye on MCOX, which reported that Cnshangquan E-Commerce Co., Ltd., a Nanjing-based leading provider of integrated marketing platforms for businesses and consumers, has agreed to purchase approximately 63.7% of the issued and outstanding ordinary shares of the Company from several existing shareholders, for a total cash consideration of approximately US$39 million in a private transaction intended to be exempt from the registration requirements under the Securities Act of 1933.
The transactions contemplated by the share purchase agreement will result in a change in control of the Company upon consummation.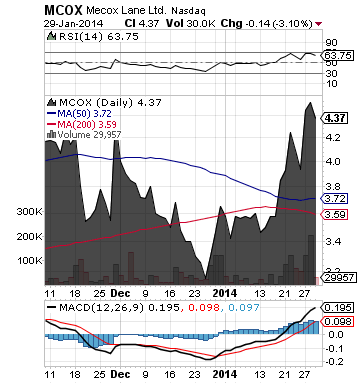 MCOX is a multi-brand and multi-channel retailer of apparel and accessories in China.
More about Mecox Lane Limited (MCOX) at ir.mecoxlane.com/overview.cfm
**
Read Full Disclaimer at www.pennyomega.com/disclaimer
Disclosure: I have no positions in any stocks mentioned, and no plans to initiate any positions within the next 72 hours.