Furiex Pharmaceuticals, Inc. (FURX)
Diarrhea-predominant irritable bowel syndrome (IBS-d) is a functional bowel disorder characterized by chronic abdominal pain and frequent diarrhea, which affects approximately 28 million patients in the U.S. and the major markets in Europe.
Although the exact cause of IBS-d is not known, symptoms are thought to result from a disturbance in the way the gut and nervous system interact. IBS-d can be extremely debilitating and there are limited therapeutic options for managing the chronic symptoms.
IBS-d is associated with economic burden in direct medical costs and indirect social costs such as absenteeism and lost productivity, along with decreased quality of life.
FURX reported top-line results indicating its two pivotal Phase III clinical trials evaluating the efficacy and safety of eluxadoline in the treatment of diarrhea-predominant irritable bowel syndrome (IBS-d) met both the U.S. Food and Drug Administration (FDA) and the European Medicines Agency (EMA) formally agreed-upon primary endpoints of composite response based on simultaneous improvements in stool consistency and abdominal pain.
Eluxadoline had a favorable tolerability and safety profile in the trials.
In 2011, FURX acquired full exclusive license rights from Janssen to develop and commercialize eluxadoline.
Eluxadoline is a novel, orally active investigational agent with combined mu opioid receptor agonist and delta opioid receptor antagonist activity which acts locally in the gut and has very low oral bioavailability. This dual opioid activity is designed to treat diarrhea and pain symptoms of IBS-d, without causing the constipating side effects that can occur with unopposed mu opioid agonists.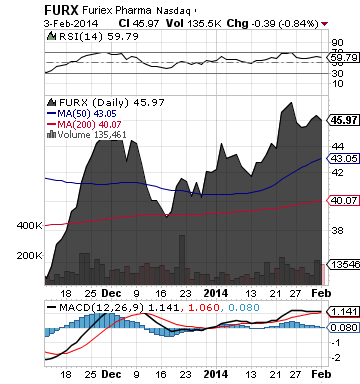 FURX is a drug development collaboration company that uses innovative clinical development design to accelerate and increase value of drug development programs by advancing them through the drug discovery and development process in a cost-efficient manner.
More about Furiex Pharmaceuticals, Inc. (FURX) at www.furiex.com.
**

Westell Technologies, Inc. (OTC:WSTL)
Keep a close eye on WSTL. The company reported strong performance on its financial results.
For its third quarter fiscal 2014, WSTL posted consolidated revenue of $25.23 million, compared to $8.87 million in the same period the prior year, GAAP net income of $1.9 million or $0.03 per share, compared to a net loss of $2.0 million or $0.03 per share in the year-ago quarter, and non-GAAP net income of $4.2 million or $0.07 per share, compared to a non-GAAP net loss of $1.0 million or $0.02 per share in its third quarter fiscal 2013.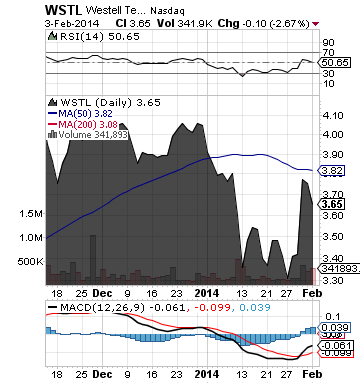 WSTL is a global leader of intelligent site and outside plant solutions focused on the high value/growth edge and access networks.
More about Westell Technologies, Inc. (OTC:WSTL) at www.westell.com.
**
Read Full Disclaimer at www.pennyomega.com/disclaimer
Disclosure: I have no positions in any stocks mentioned, and no plans to initiate any positions within the next 72 hours.