Apricus Biosciences, Inc. (NASDAQ:APRI)
It is estimated that, worldwide, 150 million men suffer with erectile dysfunction. Factors contributing to the appearance of the disease or its severity include medical history, tobacco use and age. Erectile dysfunction is also found in men with cardiovascular disease.
APRI reported that it has signed an exclusive license agreement with Recordati S.p.A. to market Vitaros(NYSE:R), its topical on-demand product for the treatment of erectile dysfunction, in Spain, Russia, Turkey, Ireland and certain other European and African countries.
Under the terms of the agreement, APRI is eligible to receive up to approximately $3.8 million from Recordati in upfront and pre-commercialization milestone payments. APRI is also eligible to receive up to approximately $47 million in sales milestone payments, plus double-digit tiered royalties based on Recordati's net sales of the product in that territory.
Recordati has agreed to obtain all necessary regulatory approvals at its sole cost.
APRI's Vitaros(R) is approved for the treatment of erectile dysfunction by a number of European health authorities and by Health Canada. It is a topically-applied cream formulation of alprostadil, a vasodilator, combined with the company's proprietary permeation enhancer DDAIP.HCl, which directly increases blood flow to the penis, causing an erection.
APRI is a pharmaceutical company that develops and markets through its licensing partners innovative treatments that have the potential to help large patient populations across numerous, large-market therapeutic classes including male and female sexual health.
More about Apricus Biosciences, Inc. (APRI) at www.apricusbio.com.
**

Augusta Resource Corp. (NYSEMKT:AZC)
HudBay Minerals Inc. said that it intends to commence an offer to acquire all of the issued and outstanding common shares of AZC not already owned by the company.
AZC's Board of Directors will meet this week to discuss Hudbay Minerals' intention and will update its shareholders following that board meeting.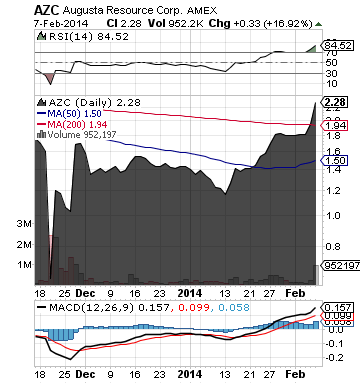 AZC is a base metals company focused on advancing the Rosemont Copper deposit near Tucson, Arizona.
More about Augusta Resource Corp. (AZC) at www.augustaresource.com
**
Read Full Disclaimer at www.pennyomega.com/disclaimer
Disclosure: I have no positions in any stocks mentioned, and no plans to initiate any positions within the next 72 hours.