Magic Software Enterprises Ltd. (NASDAQ:MGIC)
Keep a close eye on MGIC. The company reported record sales and strong performance across all of its products and professional services in all regions on its financial results for 2013.
For the fourth quarter 2013, MGIC posted revenues of $41.2 million, a 15% increase year over year, operating income of $5.4 million, a 28% increase compared to the same period the prior year, and net income of $4.7 million, a 10% increase versus the fourth quarter 2012.
MGIC's annual revenues for 2013 increased 15% year over year to a record-breaking result of $145.0 million, while its Non-GAAP operating income increased 22% to $22.7 million for the year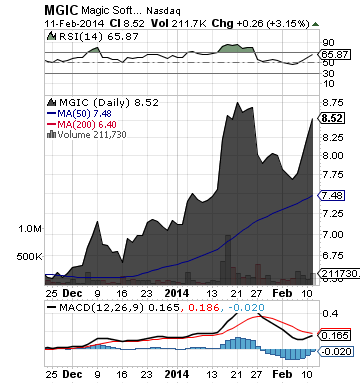 MGIC is a global provider of mobile and cloud-enabled application and business integration platforms.
More about Magic Software Enterprises Ltd. (MGIC) at www.magicsoftware.com.
**

Ceragon Networks Ltd. (NASDAQ:CRNT)
CRNT and TESSCO Technologies Inc. reported that CRNT's IP-20 platform is now available through TESSCO.
This expanded channel relationship increases the footprint of the IP-20 in North America, effectively addressing the needs of operators seeking manageable, high-capacity solutions for their burgeoning heterogeneous network (HetNet) hauling challenges.
TESSCO will offer the advanced IP-20 product portfolio and complementing solutions, to serve any type of networking microwave hauling applications for industries such as utilities, Public Safety, transportation, Internet service providers, private network operators, government, oil and gas, among others.
The IP-20 platform provides a common, programmable architecture for all of CRNT's next-generation FibeAir and Evolution products.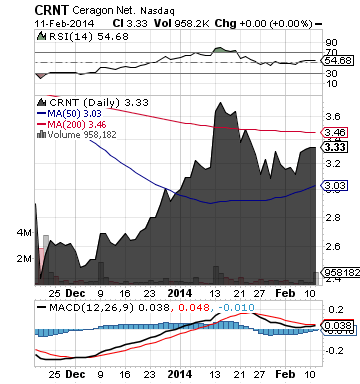 CRNT is a high-capacity wireless hauling specialist, which provides innovative, flexible and cost-effective wireless backhaul and fronthaul solutions that enable mobile operators and other wired/wireless service providers to deliver 2G/3G, 4G/LTE and other broadband services to their subscribers.
More about Ceragon Networks Ltd. (CRNT) at www.ceragon.com
**
Read Full Disclaimer at www.pennyomega.com/disclaimer
Disclosure: I have no positions in any stocks mentioned, and no plans to initiate any positions within the next 72 hours.