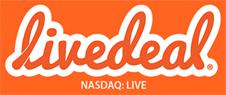 LiveDeal Inc. (NASDAQ:LIVE)
Shares of LIVE soared on Thursday's trading session, after the company reported that it has launched its "deal engine" platform livedeal.com in New York City.
With over 42,000 eating and drinking locations and $33.6 billion in revenues, New York City represents a massive marketplace to leverage the livedeal.com platform.
Recently, LIVE's livedeal.com successfully launched in San Diego, Los Angeles and San Francisco, with over 1,000 restaurants leveraging the platform with real-time deals for bargain-savvy local consumers.
Restaurants gain the ability to curate and control their own customized offers to customers via livedeal.com's unique, real-time "deal engine."
LIVE plans to continue its expansion into major metropolitan regions throughout 2014.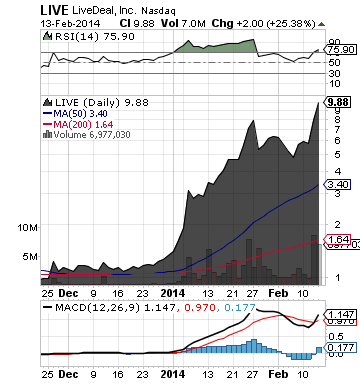 LIVE provides marketing solutions that boost customer awareness and merchant visibility on the Internet. LIVE operates a deal engine (livedeal.com), which is a service that connects merchants and consumers via an innovative platform that uses geo-location, enabling businesses to communicate real-time and publish instant offers to nearby consumers.
More about LiveDeal Inc. (LIVE) at www.livedeal.com.
**

Retrophin, Inc. (NASDAQ:RTRX)
The price of RTRX stock skyrocketed on Thursday's market activity, after the company said that it has signed an agreement to acquire Manchester Pharmaceuticals LLC, a pharmaceutical company that focuses on treatments for rare diseases.
Manchester markets two drugs that have been approved by the FDA. Chenodal(NYSE:R) (chenodeoxycholic acid -- a synthetic bile acid also known as chenodiol), indicated for patients suffering from gallstones in whom surgery poses an unacceptable health risk due to disease or advanced age, and Vecamyl(R) (mecamylamine HCI tablets), indicated for the management of moderately severe to severe essential hypertension and uncomplicated cases of malignant hypertension.
RTRX expects 2014 revenues to be in the range of $10 million to $12 million, and 2015 revenues in the range of $19 million to $21 million.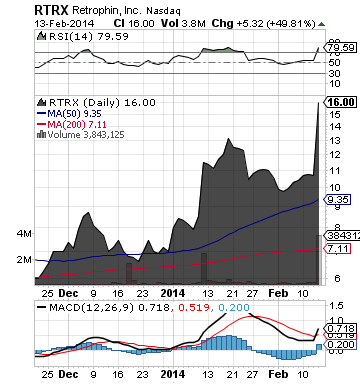 RTRX is focused on the development, acquisition and commercialization of drugs for the treatment of serious, catastrophic or rare diseases for which there are currently no viable options for patients.
More about Retrophin, Inc. (RTRX) at www.retrophin.com
**
Read Full Disclaimer at www.pennyomega.com/disclaimer
Disclosure: I have no positions in any stocks mentioned, and no plans to initiate any positions within the next 72 hours.