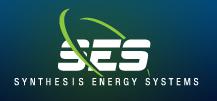 Synthesis Energy Systems, Inc. (SYMX)
China boasts abundant coal resources but scarce oil and natural gas reserves. The nation has been striving to develop a modern chemical industry that using coal as feedstock to produce petroleum substitutes, as domestic oil demand has been outpacing slower growth of oil output amid higher international oil prices.
China's demand for economic, yet cleaner, technology and equipment solutions for its expanding chemicals, power, fertilizers, natural gas, fuels and DRI steel industries is expected to continue to rise, paralleling the country's ascent as a global industrial power.
SYMX reported that its wholly owned subsidiary, SES Asia Technologies, Ltd., has entered into definitive agreements to form a joint venture (JV) with Zhangjiagang Chemical Machinery Co., Ltd. (ZCM)
The JV combines SYMX's advanced proprietary gasification technology with the market reach of one of China's leading coal-chemical equipment manufacturers and is expected to provide a uniquely competitive and high growth platform for both SYMX's and ZCM in China and other major Asian markets.
ZCM has agreed to contribute RMB 100 million (approximately US$16.5 million) to the JV to fund its working capital needs for a 65% ownership interest. SYMX is contributing exclusive usage of its advanced, proprietary gasification technology in these Asian markets for a 35% interest in the JV.
Approximately half of China and the Asian region's indigenous coal supply is lower quality coal which is critical to economically fueling chemical and energy needs for many years to come.
Previous technologies deployed in China are generally unable to process these lower quality coals economically and cleanly whereas SYMX's proprietary advanced gasification technology is capable of unlocking the value of these lower cost and abundant low-quality coals and coal wastes by efficiently converting them to syngas to produce high-value end products.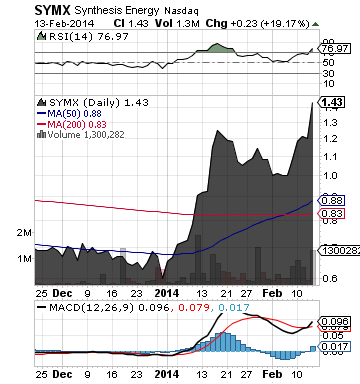 SYMX is focused on bringing cleaner high-value energy to developing countries from low-grade coal and biomass natural resources through its proprietary gasification technology. The technology, which is licensed from the Gas Technology Institute, enables greater fuel flexibility and efficient small-scale operations close to fuel sources. Fuel sources include low-rank, low-cost high ash, high moisture coals, which are significantly cheaper than higher grade coals, many coal waste products, and biomass feedstocks.
More about Synthesis Energy Systems, Inc. (SYMX) at www.synthesisenergy.com
**

j2 Global, Inc. (NASDAQ:JCOM)
Keep a close eye on JCOM. The company reported strong performance on its financial results.
For the fourth quarter 2013, JCOM posted revenues of $138.0 million, a 35.3% increase year over year, Adjusted earnings per diluted share of $0.91, an 18.1% increase compared to the same period the prior year, and free cash flow of $50.5 million, an increase of 11.7% compared to $45.2 million for the fourth quarter 2012
For fiscal 2014, JCOM estimates that it will achieve revenues between $580 and $600 million and Adjusted earnings per diluted share of between $3.23 and $3.47.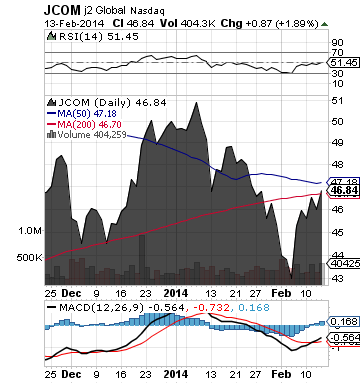 JCOM and its affiliates provide Internet services through their two divisions: Business Cloud Services and Digital Media. The Business Cloud Services Division offers Internet fax, virtual phone, hosted email, email marketing, online backup, unified communications and CRM solutions. The Digital Media Division consists of Ziff Davis Inc., which offers technology, gaming and lifestyle content through its digital properties, which include PCMag.com, IGN.com, AskMen.com, Toolbox.com and others.
More about j2 Global, Inc. (JCOM) at www.j2global.com
**
Read Full Disclaimer at www.pennyomega.com/disclaimer
Disclosure: I have no positions in any stocks mentioned, and no plans to initiate any positions within the next 72 hours.