Prima BioMed Ltd. (PBMD)
The ovaries are a pair of organs in the female reproductive system. They are located in the pelvis, one on each side of the uterus (the hollow, pear-shaped organ where a fetus grows). Each ovary is about the size and shape of an almond. The ovaries produce eggs and female hormones (chemicals that control the way certain cells or organs function).
Ovarian cancer is a cancerous growth arising from the ovary. Symptoms are frequently very subtle early on and may include: bloating, pelvic pain, difficulty eating and frequent urination, and are easily confused with other illnesses.
Most (more than 90%) ovarian cancers are classified as "epithelial" and are believed to arise from the surface (epithelium) of the ovary.
According to the National cancer institute, epithelial ovarian cancer is the fifth most frequent cause of cancer death in women, with 50% of all cases occurring in women older than 65 years.
PBMD reported that it has finalized an agreement with Neopharm Group for an exclusive license to market and sell CVac(TM), a personalized immunocellular therapeutic under investigation for the treatment of epithelial ovarian cancer, in Israel and the Palestinian Authority.
PBMD's CVac, currently in phase 2 clinical trials for the treatment of epithelial ovarian cancer patients in remission, is intended to stimulate the immune system to target and destroy tumors. The treatment is custom manufactured for each patient. CVac consists of each patient's own dendritic cells (a type of white blood cell), treated with mucin 1. The mucin 1 target is fused to mannan (a carrier that facilitates the uptake of mucin 1 into the dendritic cells).
Immunotherapy provides a unique therapy modality. By targeting a protein that exists only on tumor cells, it leaves normal tissues intact and has an excellent safety profile; side effects are minimal. This stands in stark contrast to chemotherapies with broader killing spectrums.
With PBMD's CVac, the body's own immune system is stimulated as the dendritic cells will activate T cells to find the mucin 1 on tumors and destroy the tumor cells.
In November 2013, PBMD and Neopharm entered into a binding term sheet for this License. Under the terms of the License, Neopharm will reimburse PBMD for commercial manufacturing costs of CVac and then PBMD and Neopharm will split net profits from CVac sales in the License territory. PBMD will also receive small up-front and development milestone payments.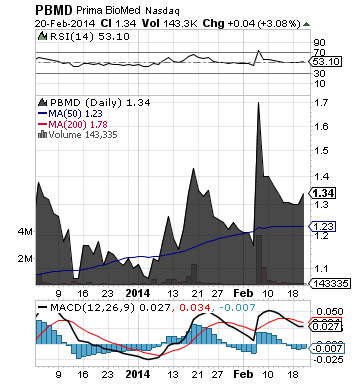 PBMD is a globally active leader in the development of personalized immunocellular therapeutic products for the treatment of cancer.
More about Prima BioMed Ltd. (PBMD) at www.primabiomed.com.au
**

EV Energy Partners LP (EVEP)
EVEP was upgraded from Hold to Buy and its price target raised from $39.00 to $40.00 by brokerage firm Wunderlich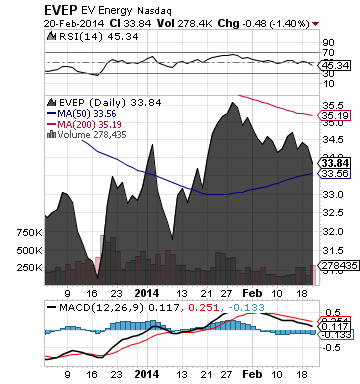 EVEP is a master limited partnership engaged in acquiring, producing and developing oil and gas properties.
More about EV Energy Partners LP (EVEP) at www.evenergypartners.com
**
Read Full Disclaimer at www.pennyomega.com/disclaimer
Disclosure: I have no positions in any stocks mentioned, and no plans to initiate any positions within the next 72 hours.