Cell Therapeutics, Inc. (NASDAQ:CTIC)
Non-Hodgkin lymphoma (sometimes called NHL, or just lymphoma) is a cancer that starts in cells called lymphocytes, which are part of the body's immune system.
Non-Hodgkin lymphomas (NHL) can occur at any age and are often marked by lymph nodes that are larger than normal, fever, and weight loss. It is one of the most common cancers in the United States, accounting for about 4% of all cancers. The American Cancer Society's most recent estimates for non-Hodgkin's lymphoma for 2014 are:
- About 70,800 people (38,270 males and 32,530 females) will be diagnosed with NHL. This includes both adults and children.
- About 18,990 people will die from this cancer (10,470 males and 8,520 females).
There are many subtypes of NHL, but aggressive (fast-growing) B-cell NHL is the most common and accounts for about 55% of NHL cases
CTIC reported that the National Institute for Health and Care Excellence, the independent body responsible for driving improvement and excellence in the health and social care system in the UK, has published final guidance recommending prescription of PIXUVRI(NYSE:R) (pixantrone) as a cost-effective monotherapy for the treatment of adult patients with multiply relapsed or refractory aggressive B-cell non-Hodgkin lymphoma (aggressive B-cell NHL), which includes diffuse large B-cell lymphoma.
NHL is the sixth most common cancer in the UK; in 2010, 12,180 people were diagnosed with the disease. CTIC estimates that there are approximately 1,600 to 1,800 people in the UK diagnosed with multiply relapsed aggressive B-cell NHL per year.
PIXUVRI is a novel aza-anthracenedione with unique structural and physiochemical properties. Unlike related compounds, PIXUVRI forms stable DNA adducts and in preclinical models has superior anti-lymphoma activity compared to related compounds.
CTIC expects to officially launch PIXUVRI in England and Wales this spring.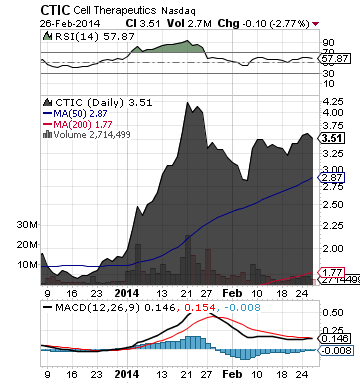 CTIC is a biopharmaceutical company committed to the development and commercialization of an integrated portfolio of oncology products aimed at making cancer more treatable.
More about Cell Therapeutics, Inc. (CTIC) at www.CellTherapeutics.com.
**

Sinovac Biotech Ltd. (NASDAQ:SVA)
Hand, Foot, and Mouth Disease (or HFMD) is a common viral illness that usually affects infants and children younger than 5 years old. However, it can sometimes occur in adults.
HFMD usually starts with a fever, poor appetite, a vague feeling of being unwell (malaise), and sore throat. One or 2 days after fever starts, painful sores usually develop in the mouth (herpangina). They begin as small red spots that blister and that often become ulcers. The sores are often in the back of the mouth. A skin rash develops over 1 to 2 days. The rash has flat or raised red spots, sometimes with blisters. The rash is usually on the palms of the hands and soles of the feet; it may also appear on the knees, elbows, buttocks or genital area.
According to the statistics from National Health and Family Planning Commission of China from 2008 to 2013, more than 9 million total cases of HFMD were reported, resulting in around 2,700 reported fatalities in China. According to an epidemiological study for the period of 2008 to 2012, around 80% of the severe cases and over 90% of fatal cases were caused by the enterovirus 71 (or EV71 ) infection.
In China, HFMD has become a very serious problem, especially in children, given that no vaccine and specific treatment is currently available to protect against this disease.
SVA reported that Phase III clinical trial results for its proprietary Enterovirus 71 (EV71) vaccine have been published online in the February 27th issue of The New England Journal of Medicine.
The clinical results showed the efficacy of the vaccine against EV71-associated hand, foot and mouth disease (HFMD), or herpangina, was 94.8% among infants and young children and an anti-EV71 neutralizing antibody titer of 1:16 was associated with protection against EV71 associated HFMD or herpangina.
As outlined in the article, SVA's vaccine also demonstrated a 100% efficacy rate against EV71-associated hospitalization and against HFMD with neurologic complications, the main cause of fatalities.
According to SVA, Phase I and II clinical trials results demonstrated that its EV71 vaccine has a good safety and immunogenicity profile, which was the basis for the recently concluded Phase III clinical trial.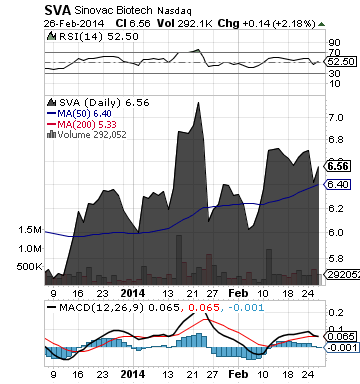 SVA is a China-based biopharmaceutical company that focuses on the research, development, manufacturing and commercialization of vaccines that protect against human infectious diseases including hepatitis A and B, seasonal influenza, H5N1 pandemic influenza (avian flu), H1N1 influenza (swine flu) and mumps, as well as animal rabies vaccine for canines.
More about Sinovac Biotech Ltd. (SVA) at www.sinovac.com
**
Read Full Disclaimer at www.pennyomega.com/disclaimer
Disclosure: I have no positions in any stocks mentioned, and no plans to initiate any positions within the next 72 hours.