Advaxis, Inc. (NASDAQ:ADXS)
The cervix is the lower part of the uterus, the place where a baby grows during pregnancy. Cervical cancer is caused by a virus called HPV. The virus spreads through sexual contact. Most women's bodies are able to fight HPV infection. But sometimes the virus leads to cancer.
Cervical cancer was once a leading cause of cancer death for women in the United States. Currently, it ranks 3rd in frequency for both diagnosis and cause of death among the gynecologic cancers and 14th for all cancers affecting U.S. women
ADXS reported that it has been issued a significant patent from the Japan Patent Office, entitled, "Compositions and Methods for Enhancing Immunogenicity of Antigens".
The claims of the patent (patent number 5479918) cover the use of ADXS-HPV for the treatment of late-stage cervical cancer with a term that extends to 2028.
This expands ADXS' patent portfolio which already has over 40 patents issued and over 40 patents pending worldwide. With licensing agreements established in Asia, with Global BioPharma, and India, with Biocon Ltd., ADXS is positioned for global development and commercialization of its immunotherapies to treat cervical cancer.
ADXS-HPV, ADXS' lead immunotherapy for the treatment of HPV-associated cancers, has demonstrated improved survival and objective tumor responses in a Phase 2 trial in 110 patients with recurrent cervical cancer.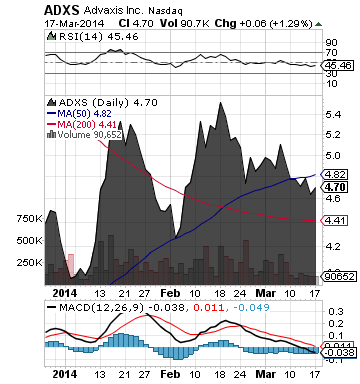 ADXS is developing the next generation of cancer immunotherapies, based on a novel platform technology using live, attenuated bacteria to stimulate the immune system to selectively target cancer cells while reducing tumor defenses.
More about Advaxis, Inc. (ADXS) at www.advaxis.com
**
Prosensa Holding N.V. (NASDAQ:RNA)
Duchenne Muscular Dystrophy (DMD) is one of the most prevalent rare genetic diseases globally affecting up to 1 in 3,500 boys and is invariably fatal.
The progressive muscle-wasting that characterizes this disease is caused by inadequate production of dystrophin, a protein necessary for muscle function, as a result of mutations in the dystrophin gene. The different mutations, which are mostly deletions of one or more exons, found in the dystrophin gene result in distinct sub-populations of DMD patients.
There is currently no approved disease-modifying therapy for DMD.
RNA reported encouraging 48-week data from its U.S.-based, Phase II placebo-controlled study of its lead RNA-based product, drisapersen, for the treatment of Duchenne Muscular Dystrophy.
According to RNA, clinically meaningful improvement from 24-week treatment period was maintained for 24 weeks after drisapersen administration ceased.
Principal investigator, Craig M. McDonald, M.D, said that the maintenance of the clinically meaningful treatment benefit in the 24-week follow-up phase is very encouraging evidence for the drug's ability to produce prolonged stabilization of disease and may indicate that, at the 6 mg/kg once weekly dose, the drug has a long term treatment effect that helps delay disease progression in younger, less severe boys
RNA's drisapersen at weekly doses of 3 and 6 mg/kg/week was generally well tolerated, although the majority of subjects treated with drisapersen reported injection-site reactions (none severe or serious).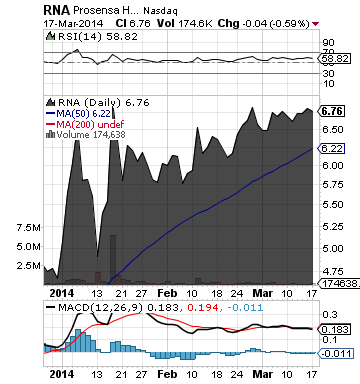 RNA is engaged in the discovery and development of ribonucleic acid-modulating, or RNA-modulating, therapeutics for the treatment of genetic disorders. Its primary focus is on rare neuromuscular and neurodegenerative disorders with a large unmet medical need, including Duchenne muscular dystrophy, Myotonic dystrophy and Huntington's disease.
More about Prosensa Holding N.V. (RNA) at www.prosensa.com.
**
Read Full Disclaimer at www.pennyomega.com/disclaimer
Disclosure: I have no positions in any stocks mentioned, and no plans to initiate any positions within the next 72 hours.