Lake Shore Gold Corp. (NYSEMKT:LSG)
LSG reported encouraging results from its 2014 drill program at the Bell Creek Mine in the area now called the Labine Deposit. They include high-grade intercepts in an untested gap in the Labine Deposit and have identified a number of new, high-grade structures near current mining.
Highlights include:
- New, high-grade intersections reported in previously untested gap in Labine Deposit North A Zone and in two new hanging wall structures east of current mining (14.12 gram per tonne ("gpt") over 10.2 metres ("m"), 8.41 gpt over 12.0 m and 7.01 gpt over 10.7 m)
- Additional new high-grade structure, and intercepts in North A Zone, defined near active mining from drilling on 685 Level, intercepts include 11.42 gpt over 3.6 m, 8.47 gpt over 4.6 m, 7.76 gpt over 8.7 m, 5.96 gpt over 6.5 m and 6.38 gpt over 6.0 m
According to LSG, the results indicate that considerable potential exists to add ounces at Bell Creek, particularly on the hanging wall, as well as to significantly increase average grades in some areas at somewhat narrower widths. At Bell Creek, LSG's average reserve grade was recently increased to 4.7 gpt and its production this year is on track to increase by more than 25%.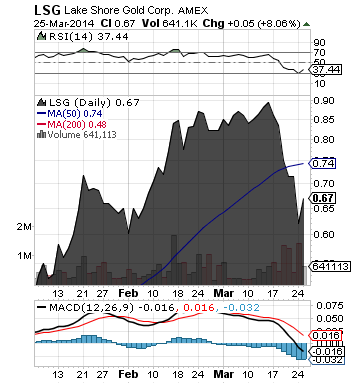 LSG is a gold mining company that is in production and is generating net free cash flow from its wholly owned operations in the Timmins Gold Camp. The Company is in production at both the Timmins West and Bell Creek mines, with material being delivered for processing to the Bell Creek Mill.
More about Lake Shore Gold Corp. (LSG) at www.lsgold.com
**

Vertex Energy, Inc. (NASDAQ:VTNR)
VTNR was initiated with a Buy rating and its price target raised from $6.00 to $8.00 by research analysts at Wunderlich.
VTNR posted positive fiscal year 2013 in terms of revenue, gross profit, net income and volume growth, with revenue of $162 million, a 20% increase year over year, gross profit of $16.34 million, a 67% increase compared with the same period the prior year, and its net income increased 115% to $7.88 million, compared to net income of $3.66 million in fiscal 2012.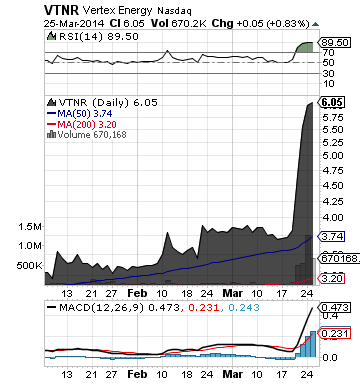 VTNR is a leading environmental services company that recycles industrial waste streams and off-specification commercial chemical products.
More about Vertex Energy, Inc. (VTNR) at www.vertexenergy.com.
**
Read Full Disclaimer at www.pennyomega.com/disclaimer
Disclosure: I have no positions in any stocks mentioned, and no plans to initiate any positions within the next 72 hours.