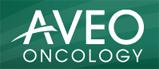 AVEO Pharmaceuticals, Inc. (NASDAQ:AVEO)
Your lungs are 2 sponge-like organs found in your chest that supplies the body with oxygen, and removes carbon dioxide from the body.
Lung cancer is the uncontrolled growth of abnormal cells in one or both lungs. These abnormal cells do not carry out the functions of normal lung cells and do not develop into healthy lung tissue. As they grow, the abnormal cells can form tumors and interfere with the functioning of the lung, which provides oxygen to the body via the blood.
Lung cancer is the leading cause of cancer-related mortality in the United States. According to the National Cancer Institute, estimated new cases and deaths from lung cancer in the U.S. in 2014 are:
- New cases: 224,210
- Deaths: 159,260
There are 2 major types of lung cancer: small cell lung cancer and non-small cell lung cancer (NSCLC). About 85% to 90% of lung cancers are non-small cell lung cancer.
AVEO and Biodesix, Inc. reported that they have entered into a worldwide agreement to develop and commercialize AVEO's hepatocyte growth factor (HGF) inhibitory antibody ficlatuzumab, with a Biodesix(NYSE:R) companion diagnostic test.
This agreement and the clinical development program will leverage VeriStrat(R), a serum protein test that is commercially available to help physicians guide treatment decisions for patients with advanced non-small cell lung cancer (NSCLC). VeriStrat is based on Biodesix' proprietary proteomics platform which enables the discovery of multivariate classifiers that characterize a patient's condition or likely outcome in response to therapy.
Under the terms of the agreement, AVEO will conduct a proof of concept study of ficlatuzumab in combination with erlotinib in advanced NSCLC patients selected using the VeriStrat test. Biodesix will fund up to $15 million of the cost of the study.
Subject to regulatory approval, AVEO will lead worldwide commercialization of ficlatuzumab, while Biodesix will be responsible for all development, including FDA engagement activities, sales and marketing costs for VeriStrat, and will retain total revenues for sales of VeriStrat.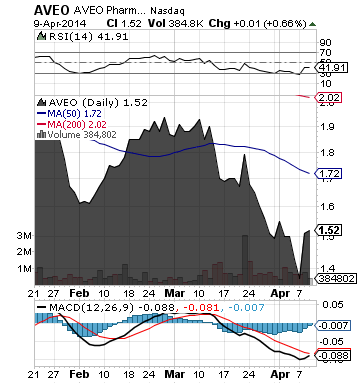 AVEO is a biopharmaceutical company committed to discovering and developing targeted therapies designed to provide substantial impact in the lives of people with cancer by addressing unmet medical needs.
More about AVEO Pharmaceuticals, Inc. (AVEO) at www.aveooncology.com.
**

AngioDynamics Inc. (NASDAQ:ANGO)
Keep a close eye on ANGO. The company reported strong top line performance on its financial results.
For the third quarter fiscal 2014, ANGO posted net sales of $88.2 million, an 8% increase year over year, and net income of $5.1 million, or $0.14 per share, compared to a net loss of $1 million, or $0.03 per share, in the same period the prior year.
ANGO is raising its fiscal year 2014 sales guidance to a range of $351 million to $355 million and anticipates revenue to range from $91 million to $95 million in the fiscal fourth quarter, up to 6% at the top end and 8% on an average daily sales basis, and adjusted EPS without amortization is expected to be in the range of $0.18-$0.21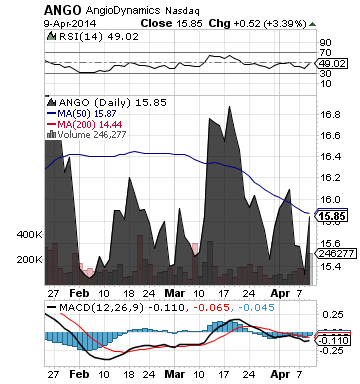 ANGO is a leading provider of innovative, minimally invasive medical devices used by professional healthcare providers for vascular access, surgery, peripheral vascular disease and oncology.
More about AngioDynamics Inc. (ANGO) at www.AngioDynamics.com.
**
Read Full Disclaimer at www.pennyomega.com/disclaimer
Disclosure: I have no positions in any stocks mentioned, and no plans to initiate any positions within the next 72 hours.