ARRIS Group, Inc. (NASDAQ:ARRS)
Keep a close eye on ARRS. The company had a strong first quarter achieving record revenue levels and was upgraded from Outperform to Strong Buy and its price target raised from $31.50 to $37.00 per share by brokerage firm Raymond James
On its preliminary and unaudited financial results for the first quarter 2014, ARRS posted revenues of $1,225.0 million, compared to $353.7 million in the same period the prior year, and GAAP net income of $0.28 per diluted share, compared to GAAP net loss of $(0.13) per diluted share in the first quarter 2013
For the second quarter 2014, ARRS expects revenues to be in the range of $1,410 million to $1,450 million, with adjusted net income per diluted share in the range of $0.64 to $0.70 and GAAP net income per diluted share in the range of $0.27 to $0.33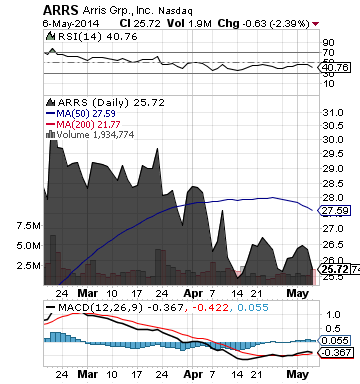 ARRS is a global innovator in IP, video and broadband technology.
More about ARRIS Group, Inc. (ARRS) at www.arrisi.com
**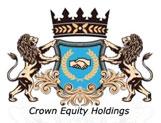 Crown Equity Holdings Inc. (OTCPK:CRWE)
CRWE is currently developing its CRWE Network (CRWE-PR.com), a social networking service compatible with both, the mobile and desktop web platform, that is designed to target all the communities in the U.S. and Canada.
The CRWE Network, which business model is based on selling advertising to local businesses, has reached the 523th community website in the U.S., associated with 2086 ZIP Codes, and includes coverage of the greater state of California, Northern and Southern Nevada, Wellington in Florida and 10 provinces in Canada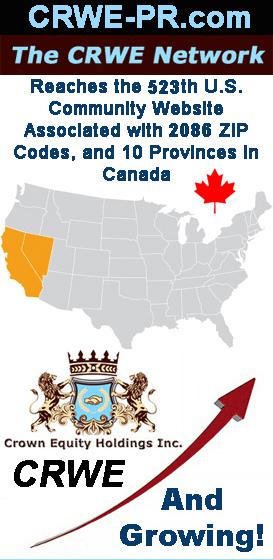 CRWE provides marketing solutions that boost customer awareness and merchant visibility on the Internet.
More about Crown Equity Holdings Inc. (OTCPK:CRWE) at www.crownequityholdings.com or the CRWE Network at www.CRWE-PR.com
**

MagneGas Corporation (MNGA)
MNGA reported that it has expanded its capability to sell MagneGas(NYSE:R) metal cutting fuel into California with Placer Power LLC.
Under the terms of the agreement, Placer Power will be selling MNGA's MagneGas fuel into the California market for the metal cutting and fabrication markets. The agreement allows for expansion into other territories based on sales volume and performance requirements.
MNGA's patented Plasma Arc Flow(NYSE:TM) process gasifies liquid waste, creating a clean burning hydrogen based fuel known as MagneGas(TM) that is essentially interchangeable with natural gas. MNGA's MagneGas can be used for metal working, cooking, heating, powering bi-fuel automobiles and more.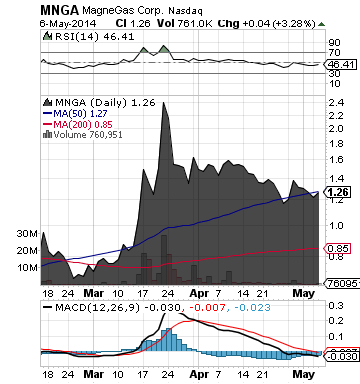 MNGA is a technology Company that counts among its inventions, a patented process that converts liquid waste into hydrogen based fuels. MNGA currently sells MagneGas(R) into the metal working market as a replacement to acetylene. It also sells equipment for the sterilization of bio-contaminated liquid waste for various industrial and agricultural markets.
More about MagneGas Corporation (MNGA) at www.MagneGas.com.
**
IGI Laboratories, Inc. (NYSEARCA:IG)
IG said that it has received tentative approval from the FDA for its abbreviated new drug application (NASDAQ:ANDA) for diclofenac sodium topical solution, 1.5%.
Diclofenac sodium topical solution, 1.5% is a nonsteroidal anti-inflammatory drug indicated for the treatment of the pain of osteoarthritis of the knee. Based on recent IMS Health data, the total addressable market for this product is approximately $29 million
This tentative approval marks the second approval of an IG ANDA by the FDA and the company believes is a further validation of its pipeline. The launch of this product will be conditioned on resolving the patent issues that surround the product.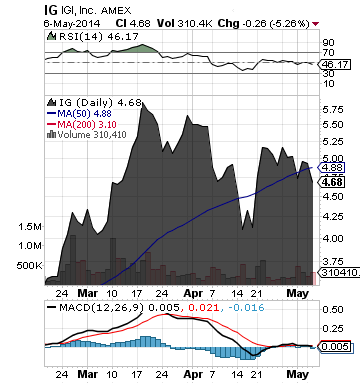 IG is a generic topical pharmaceutical company. It develops and manufactures topical formulations for the pharmaceutical, OTC, and cosmetic markets.
More about IGI Laboratories, Inc. (IG) at www.igilabs.com
**
Read Full Disclaimer at www.pennyomega.com/disclaimer
Disclosure: I have no positions in any stocks mentioned, and no plans to initiate any positions within the next 72 hours.