Tianli Agritech, Inc. (NASDAQ:OINK)
Keep a close eye on OINK. The company delivered another solid quarter on its financial results.
For the first quarter 2014, OINK posted revenue of $9.72 million, an approximately 32% increase year over year, gross profit of $1.46 million, compared to $0.81 million for the same period the prior year, and net income of $0.30 million, compared to a net loss of $0.18 million in the first quarter 2013.
As of March 31, 2014, OINK had cash and cash equivalents of $19.53 million, compared to $10.09 million at the end of 2013.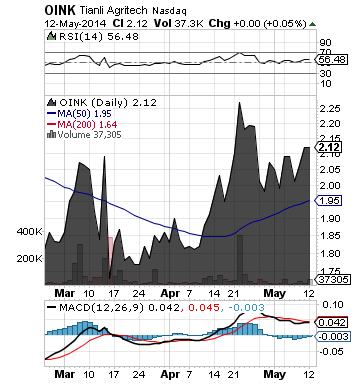 OINK is in the business of breeding, raising and selling breeder and market hogs in China and is developing a retail channel for its pork products including high-value, black hog meat.
More about Tianli Agritech, Inc. (OINK) at www.tianli-china.com
**
Crown Equity Holdings Inc. (OTCPK:CRWE)
CRWE provides marketing solutions that boost customer awareness and merchant visibility on the Internet.
The company is currently developing its CRWE Network (CRWE-PR), a social networking service compatible with both, the mobile and desktop web platform, that is designed to target all the communities in the U.S. and Canada.
Update: The CRWE Network, which business model is based on selling advertising to local businesses, has reached the 550th community website in the U.S., associated with 2116 ZIP Codes, and includes coverage of the greater state of California, Northern and Southern Nevada, Wellington in Florida and 10 provinces in Canada

The CRWE-PR Finance website (www.finance.crwe-pr.com), in development stage and currently online, allows Crown Equity Holdings the instantly distribution of information to each one of the CRWE Network's community websites in the U.S. and Canada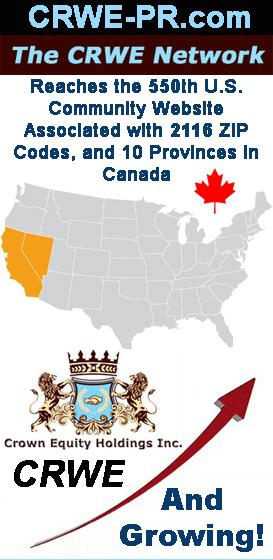 More about Crown Equity Holdings Inc. (OTCPK:CRWE) at www.crownequityholdings.com or the CRWE Network at www.CRWE-PR.com
**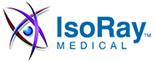 IsoRay, Inc. (NYSEMKT:ISR)
Part of the central nervous system, the brain is the control center for vital functions of the body, including speech, movement, thoughts, feelings, memory, vision, hearing and more. A brain tumor is an abnormal growth of tissue in the brain or central spine that can disrupt proper brain function.
Metastatic brain tumors are called secondary brain tumors as they are caused by cancer cells spreading (metastasizing) from another area of the body through the bloodstream to the brain. Metastatic brain tumors are five times more common than primary brain tumors. The most common types of cancer that cause metastatic brain tumors are lung cancer, breast cancer, melanoma (skin cancer), colon cancer, kidney (renal) cancer, and thyroid cancer. Metastatic brain tumors are always malignant (cancerous).
Glioblastoma is a fast-growing, central nervous system tumor that forms from supportive tissue of the brain and spinal cord. Glioblastoma usually occurs in adults and affects the brain more often than the spinal cord.
ISR reported that it has received final approval from the State of Washington Department of Health to manufacture its recently FDA cleared Liquid Cesium-131 (Cesitrex(NYSE:R)) for use with GliaSite(R) balloon catheter for the treatment of metastatic and glioblastoma brain cancers.
The GliaSite(R) balloon catheter can now incorporate the use of Liquid Cesium-131 for the treatment of metastatic and glioblastoma brain cancers and ISR's management believes this combination will offer a number of advantages in treating these debilitating brain cancers.
Liquid Cesium-131 eliminates the need for a thyroid block as required with Iodine-125, is safer for the patient and staff, and if a spill were to occur, it is an easier cleanup than with other isotopes.
A specified dose of Liquid Cesium-131 within the balloon is placed in the tumor cavity most likely to contain cancer cells following surgery. This form of radiation is less likely to damage healthy brain tissue than other available alternatives. The ability for the tumor to recur is greatly diminished by treating the tumor bed immediately at the time of surgery with a single treatment, impacting patient longevity and quality of life.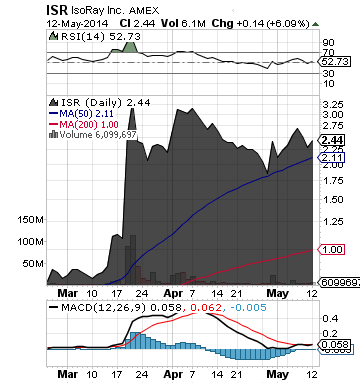 ISR is the sole producer of Cesium-131 brachytherapy seeds, which are expanding brachytherapy options throughout the body. Cesium-131 allows for the precise treatment of many different cancers because of its unrivaled blend of high energy and its 9.7 day half-life (its unequaled speed in giving off therapeutic radiation).
More about IsoRay, Inc. (ISR) at www.isoray.com.
**
Read Full Disclaimer at www.finance.crwe-pr.com/disclaimer
Disclosure: I have no positions in any stocks mentioned, and no plans to initiate any positions within the next 72 hours.