Crown Equity Holdings Inc. (OTCPK:CRWE)
CRWE provides marketing solutions that boost customer awareness and merchant visibility on the Internet.
The company is currently developing its CRWE Network (CRWE-PR), a social networking service which business model is based on selling advertising to local businesses.
Update: The CRWE Network has reached the 555th community website in the U.S., associated with 2121 ZIP Codes, and includes coverage of the greater state of California, Northern and Southern Nevada, Wellington in Florida and 10 provinces in Canada

The CRWE-PR Finance website (www.finance.crwe-pr.com), in development stage and currently online, allows Crown Equity Holdings the instant distribution of information to the entire CRWE Network community of websites in the U.S. and Canada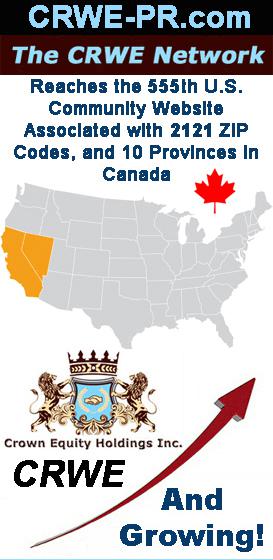 More about Crown Equity Holdings Inc. (OTCPK:CRWE) at www.crownequityholdings.com or the CRWE Network at www.CRWE-PR.com
**

The Rubicon Project, Inc. (NYSE:RUBI)
Keep a close eye on RUBI. The company reported a record first quarter, with financial results and guidance above consensus estimates.
For the first quarter 2014, RUBI posted revenue of $23.0 million, a 38.6% increase year over year, versus the $20.28 million Capital IQ Consensus Estimate, and Non-GAAP loss per share of ($0.15), representing $0.27 better than the Capital IQ Consensus Estimate of ($0.42).
According to its guidance, for the second quarter of 2014 RUBI expects revenue to be in the range of $24.5 million and $25.5 million, versus $24.13 million Capital IQ Consensus Estimate, and Non-GAAP loss per share between ($0.24) and ($0.21) based on approximately 33.2 million non-GAAP weighted-average shares outstanding, versus ($0.26) Capital IQ Consensus Estimate.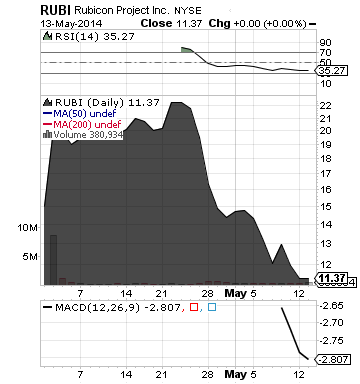 RUBI pioneered advertising automation and its technology platform is used by hundreds of the world's premium publishers and applications to connect with more than 100,000 brands globally since inception. According to comScore March 2014, RUBI reaches 97% of U.S. Internet users per month.
More about the Rubicon Project, Inc. (RUBI) at www.RubiconProject.com
**

LoJack Corporation (NASDAQ:LOJN)
LOJN reported that an arbitration panel has dismissed all claims filed against the Company by Tracker do Brasil LTDA, the exclusive licensee of the LoJack Stolen Vehicle Recovery technology in Brazil.
In its binding decision, arbitrators from the International Centre for Dispute Resolution of the American Arbitration Association also upheld several of LOJN's counterclaims against Tracker do Brasil for violating the terms of its license agreement, breaching the implied duty of good faith and fair dealing, and engaging in unfair competition.
The panel found that the unauthorized use of LOJN's intellectual property and confidential information caused the company to suffer damages to its reputation, in addition to other damages.
The panel now will conduct a further hearing to determine the amount of an award of damages owed to LOJN.
LOJN provides safety, security and protection for an ever-growing range of valuable assets and people. Leveraging its core strengths, including its well-known brand, direct integration with law enforcement and Dealer distribution network, LOJN is expanding into new areas across the continuum from theft deterrence to recovery.
More about LoJack Corporation (LOJN) at www.lojack.com
**
Read Full Disclaimer at www.finance.crwe-pr.com/disclaimer
Disclosure: I have no positions in any stocks mentioned, and no plans to initiate any positions within the next 72 hours.