Saratoga Resources, Inc. (OTCPK:SARA)
Tuesday's trading session worked out for the price of SARA stock, which skyrocketed after the company provided an update on its recent Rocky 3 horizontal development well in Breton Sound Block 32 field and recompletion in the QQ #24 well in Main Pass Block 47 field.
The SL 1227-29 "Rocky 3" well, in 14 feet of water depth, was spud on May 3rd using the Parker 72B barge rig and reached a TD of 7,178' MD/5,818' TVD on May 15th. The well was completed in the 5,800' sand with a lateral displacement of 750 feet.
According to SARA, the Rocky 3 well tested on May 30, 2014 at a gross equivalent rate of 1,531 barrels of oil per day (BOPD) and 240 thousand cubic feet of gas per day (MCFPD), or net 1,288 barrels of oil equivalent per day (BOEPD), on 20/64" choke with flowing tubing pressure of 780 psi. Oil gravity is 39.8 degrees API.
The initial production test rate for Rocky 3 is the highest rate for any of SARA's wells to date as well as the highest rate for any well drilled to date in the field.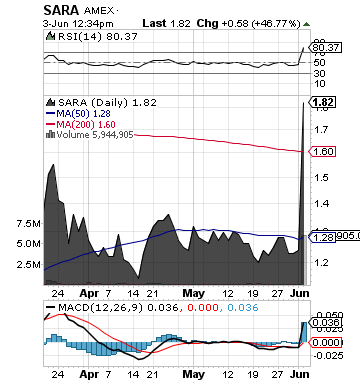 SARA is an independent exploration and production company. Principal holdings cover 52,103 gross/net acres, mostly held by production, located in the transitional coastline and protected in-bay environment on parish and state leases of south Louisiana and in the shallow Gulf of Mexico Shelf.
More about Saratoga Resources, Inc. (OTCPK:SARA) at www.saratogaresources.com
**

InterDigital, Inc. (NASDAQ:IDCC)
Shares of IDCC are trading on different levels after the company reported that it expects strong financial performance and free cash flow for the foreseeable future.
Based on preliminary accounting results that are subject to review and finalization, royalty reports received and license agreements signed to date, IDCC expects total second quarter 2014 revenue to be between $172 million and $210 million.
IDCC also said that its patent licensing subsidiaries have entered into a patent license agreement with Samsung Electronics Co., Ltd. The multi-year agreement also resolves all pending litigation between the companies. The royalty-bearing license agreement sets forth terms covering the sale by Samsung of 3G, 4G and certain future generation wireless products.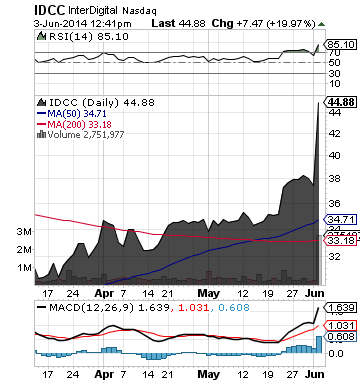 IDCC develops wireless technologies that are at the core of mobile devices, networks, and services worldwide.
More about InterDigital, Inc. (IDCC) at www.interdigital.com.
**
Read Full Disclaimer at www.finance.crwe-pr.com/disclaimer
Disclosure: I have no positions in any stocks mentioned, and no plans to initiate any positions within the next 72 hours.