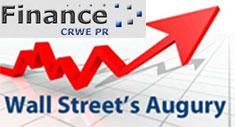 NanoString Technologies, Inc. (NASDAQ:NSTG)
Lymphoma is the most common blood cancer. The two main forms of lymphoma are Hodgkin lymphoma and Non-Hodgkin lymphoma.
Lymphoma occurs when cells of the immune system called lymphocytes, a type of white blood cell, grow and multiply uncontrollably. Cancerous lymphocytes can travel to many parts of the body, including the lymph nodes, spleen, bone marrow, blood, or other organs, and form a mass called a tumor. The body has two main types of lymphocytes that can develop into lymphomas: B-lymphocytes (B-cells) and T-lymphocytes (T-cells).
Diffuse Large B-Cell Lymphoma (DLBCL) is a heterogeneous group of cancers classified together on the basis of morphology, immunophenotype, genetic alterations and clinical behavior, and represents the most common form of Non-Hodgkin Lymphoma. According to the National Cancer Institute, DLBCL will represent approximately 37% of the 70,000 new cases of Non-Hodgkin Lymphoma this year.
After the closing bell on Tuesday, NSTG reported that it has entered into a collaboration with Celgene Corporation to develop a companion diagnostic assay using the nCounter(NYSE:R) Analysis System to support the clinical validation of REVLIMID(R) for treatment of Diffuse Large B-Cell Lymphoma (DLBCL).
Under the terms of the collaboration agreement, NSTG will develop, seek regulatory approval for, and commercialize the diagnostic test and is eligible to receive payments totaling up to $45 million of which $5.75 million is an upfront payment, $17 million is for potential success-based developmental and regulatory milestones, and the remainder is for potential commercial payments.
NSTG will work to develop an in vitro diagnostic companion test to REVLIMID that will be used to screen patients who are being enrolled in a pivotal study of REVLIMID for the treatment of DLBCL.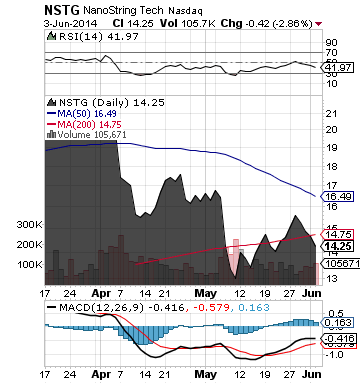 NSTG provides life science tools for translational research and molecular diagnostic products. Its nCounter(R) Analysis System offers a cost-effective way to easily profile the expression of hundreds of genes, miRNAs, or copy number variations, simultaneously with high sensitivity and precision, facilitating a wide variety of basic research and translational medicine applications, including biomarker discovery and validation.
NSTG's technology has now been applied to diagnostic use. The Prosigna(NYSE:TM) Breast Cancer Prognostic Gene Signature Assay together with the nCounter Dx Analysis System is FDA 510(k) cleared for use as a prognostic indicator for distant recurrence of breast cancer.
More about NanoString Technologies, Inc. (NSTG) at www.nanostring.com.
**
Read Full Disclaimer at www.finance.crwe-pr.com/disclaimer
Disclosure: I have no positions in any stocks mentioned, and no plans to initiate any positions within the next 72 hours.