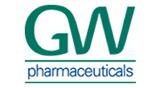 GW Pharmaceuticals plc (NASDAQ:GWPH)
Epilepsy is one of the most common neurological disorders in children. Dravet syndrome, also known as Severe Myoclonic Epilepsy of Infancy, is a rare and catastrophic form of intractable epilepsy that begins in infancy and for which there is currently no cure.
Initial seizures are most often prolonged events and in the second year of life other seizure types begin to emerge. All seizure types are remarkably resistant to medical therapy and the prognosis for Dravet syndrome is poor.
Individuals with Dravet syndrome face a higher incidence of SUDEP (sudden unexplained death in epilepsy) and have associated co-morbid conditions, which also need to be properly managed. Children with Dravet syndrome do not outgrow this condition and it affects every aspect of their daily lives.
GWPH reported that the FDA has granted Fast Track designation to the company's investigational cannabidiol (NYSE:CBD) product, Epidiolex(NYSE:R), in the treatment of Dravet syndrome.
FDA's Fast Track program facilitates the development and review of drugs intended to treat serious conditions and fill an unmet medical need. A drug development program with Fast Track designation is afforded greater access to the FDA for the purpose of expediting the drug's development, review and potential approval to get important new drugs to the patient earlier.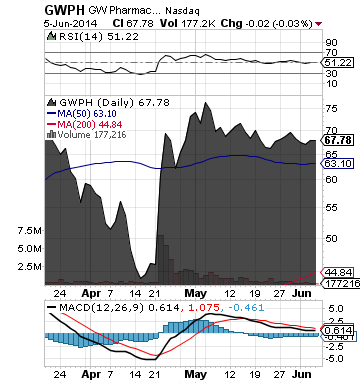 GWPH is a biopharmaceutical company focused on discovering, developing and commercializing novel therapeutics from its proprietary cannabinoid product platform in a broad range of disease areas.
More about GW Pharmaceuticals plc (GWPH) at www.gwpharm.com.
**
Crown Equity Holdings Inc. (OTCPK:CRWE)
CRWE provides marketing solutions that boost customer awareness and merchant visibility on the Internet.
The company is currently developing its CRWE Network (CRWE-PR), a social networking service which business model is based on selling advertising to businesses targeting both locally and nationally.

The CRWE Network, based on the momentum the industry has taken in positioning itself for additional grow in the future, is in the process of building an online medical marijuana informational and directory search platform (www.medicalmarijuana.crwe-pr.com). The purpose of the site is to connect people with information in reference to the industry and patients to a network of physicians, dispensaries and more in reference to States with approved Medical Marijuana usage.

The CRWE-PR Finance website (www.finance.crwe-pr.com), in development stage and currently online, allows CRWE the instant distribution of information to the entire CRWE Network, which has reached the 637th community website in the U.S., associated with 2205 ZIP Codes, and includes coverage of the greater state of California, Northern and Southern Nevada, Wellington in Florida and 10 provinces in Canada.
More about Crown Equity Holdings Inc. (OTCPK:CRWE) at www.crownequityholdings.com
**

China Ming Yang Wind Power Group Ltd. (NYSE:MY)
MY reported that its subsidiary, Jiangsu Mingyang Wind Power Technology Limited has been approved by Rudong Energy Bureau in Jiangsu Province, China, to exclusively develop and operate a 300MW off-shore wind power project off the coast of Rudong in Jiangsu Province, China, subject to certain conditions.
MY expects to continue to leverage the off-shore opportunity in China and deliver its innovative Super Compact Drive wind turbine generators as an effective solution for off-shore wind power projects in China and beyond.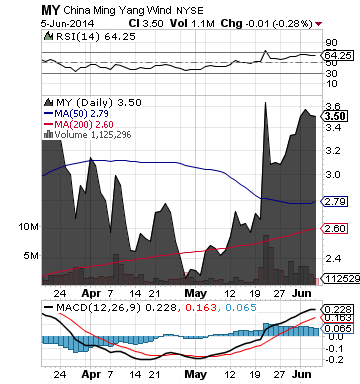 MY is a leading wind turbine manufacturer in China, focusing on designing, manufacturing, selling and servicing megawatt-class wind turbines. MY produces advanced, highly adaptable wind turbines with high energy output and provides customers with comprehensive post-sales services.
More about China Ming Yang Wind Power Group Ltd. (MY) at ir.mywind.com.cn
**

Comtech Telecommunications Corp. (NASDAQ:CMTL)
Keep a close eye on CMTL. The company reported strong performance on its financial results. According to CMTL, its business looks like it is firming up and its outlook for fiscal 2014 has improved.
For the third quarter fiscal 2014, CMTL posted net sales of $88.9 million compared to $69.9 million in the same period the prior year, and GAAP net income of $5.9 million, or $0.32 per diluted share, compared to $2.9 million, or $0.17 per diluted share, for the third quarter fiscal 2013
For fiscal 2014, CMTL expects revenue to range from $342.0 million to $346.0 million and GAAP diluted earnings per share is expected to be in the range of $1.25 to $1.30.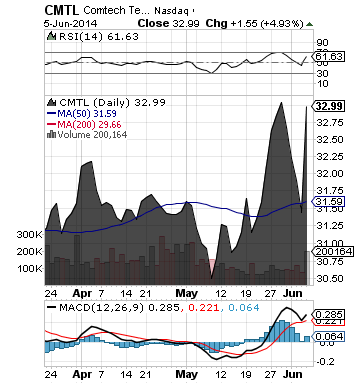 CMTL designs, develops, produces and markets innovative products, systems and services for advanced communications solutions.
More about Comtech Telecommunications Corp. (CMTL) at www.comtechtel.com
**
Read Full Disclaimer at www.finance.crwe-pr.com/disclaimer
Disclosure: I have no positions in any stocks mentioned, and no plans to initiate any positions within the next 72 hours.