Family Dollar Stores Inc. (NYSE:FDO)
King Midas is popularly remembered in Greek mythology for his ability to turn everything he touched with his hand into gold. Something like that is happening in the stock market.
After the closing bell on Friday, Carl Icahn disclosed in a filing with the Securities and Exchange Commission a nearly 9.4% stake in FDO. In after hours trade and following disclosure of the stake, shares of FDO surged nearly 10%.
The billionaire investor wants to meet with the company's senior management team and board of directors to discuss FDO's operating initiatives or the exploration of strategic alternatives, and he may also seek board representation "if appropriate.".
According to the filing, Carl Icahn sees "great long-term potential" in the discount retail industry and he believes FDO's current financial position is similar to that of CVR Energy (NYSE:CVI), Forest Laboratories (NYSE:FRX), Chesapeake Energy (NYSE:CHK) and Biogen Idec (Nasdaq:BIIB) - companies that Icahn has targeted in the past.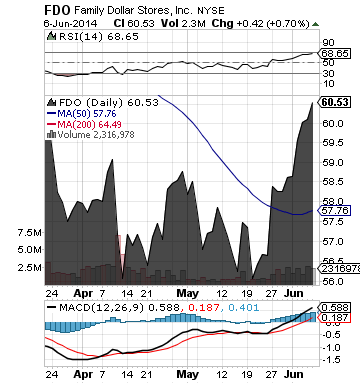 FDO operates a chain of self-service retail discount stores primarily for low- and middle-income consumers in the United States
More about Family Dollar Stores Inc. (FDO) at www.familydollar.com
**
Read Full Disclaimer at www.finance.crwe-pr.com/disclaimer
Disclosure: I have no positions in any stocks mentioned, and no plans to initiate any positions within the next 72 hours.