Avanir Pharmaceuticals, Inc. (NASDAQ:AVNR)
Migraine represents an area of significant unmet medical need. According to the Centers for Disease Control and Prevention, over 37 million Americans suffer from migraine headaches.
The pain of a migraine headache is often described as an intense pulsing or throbbing pain in one area of the head. However, it is much more; the International Headache Society diagnoses a migraine by its pain and number of attacks (at least 5, lasting 4-72 hours if untreated), and additional symptoms including nausea and/or vomiting, or sensitivity to both light and sound. Migraine is three times more common in women than in men and affects more than 10 percent of people worldwide.
AVNR reported that COMPASS, its Phase IIIb clinical trial comparing the efficacy and safety of the investigational product AVP-825 22mg to sumatriptan 100mg tablets for the treatment of acute migraines in adults, met the primary efficacy endpoint.
The COMPASS study met the primary endpoint for the sum of pain intensity difference at 30 minutes post dose (SPID30), showing that migraine sufferers achieved greater pain relief within 30 minutes of treatment with 22 mg of the investigational product AVP-825 compared with 100 mg sumatriptan tablet. There were no serious adverse events in the study.
AVP-825 is an investigational drug-device combination product consisting of low-dose sumatriptan powder delivered intranasally utilizing a novel Breath Powered(NYSE:TM) delivery technology.
The Breath Powered delivery technology is activated by user's breath to propel medications deep into the nasal cavity where absorption is more efficient and consistent than through most other routes.
In March 2014, the U.S. FDA accepted the New Drug Application (NDA) of AVP-825 and the Prescription Drug User Fee Act (PDUFA) V goal date is November 26, 2014. If approved, AVP-825 would be the first and only fast-acting, dry-powder intranasal form of sumatriptan for the treatment of migraine.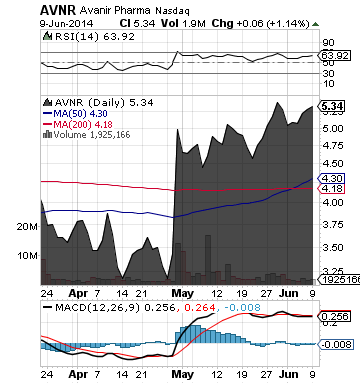 AVNR is a biopharmaceutical company focused on bringing innovative medicines to patients with central nervous system disorders of high unmet medical need.
More about Avanir Pharmaceuticals, Inc. (AVNR) at www.avanir.com.
**
SuperCom Ltd. (NASDAQ:SPCB)
Keep a close eye on SPCB. The company reported record financial results.
For the first quarter 2014, SPCB posted revenue of $5.3 million compared to $2.0 million in the same period the prior year, gross profit of $4.3 million versus $1.7 million in the same period the previous year, and operating income of $1.4 million compared to $0.7 million in the first quarter 2013.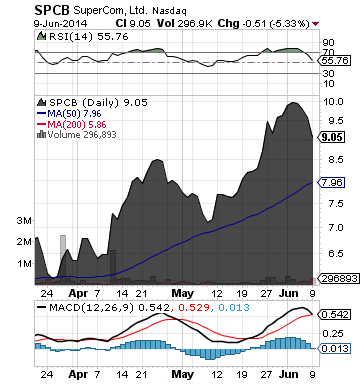 Since 1988, SPCB has been a leading global provider of traditional and digital identity solutions, providing advanced safety, identification and security solutions to governments and organizations, both private and public, throughout the world.
More about SuperCom Ltd. (SPCB) at www.supercom.com
**
Read Full Disclaimer at www.finance.crwe-pr.com/disclaimer
Disclosure: The author has no positions in any stocks mentioned, and no plans to initiate any positions within the next 72 hours.