Rambus Inc. (NASDAQ:RMBS)
Keep a close eye on RMBS. The company has raised its revenue guidance, and now expects for the second quarter of 2014 revenue to range between $75 million and $77 million, up from the initial range of $69 million to $74 million. For the full year 2014, RMBS reiterated its revenue guidance to be between $295 million and $305 million.
Further, RMBS reported that it has signed a comprehensive patent license agreement with Qualcomm Global Trading Pte. Ltd., a subsidiary of Qualcomm Incorporated.
The agreement provides Qualcomm Incorporated and its subsidiaries with access to innovative patented memory, interface, and security technologies from RMBS. Other terms of the agreement are confidential.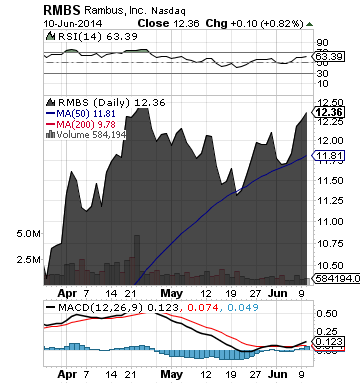 RMBS brings invention to market. The company's customizable IP cores, architecture licenses, tools, services, and training improve the competitive advantage of its customer's products while accelerating their time-to-market. RMBS products and innovations capture, secure and move data
More about Rambus Inc. (RMBS) at www.rambus.com
**

Synaptics Inc. (NASDAQ:SYNA)
SYNA has increased its revenue guidance, and for the fourth quarter of fiscal 2014, SYNA now expects to report record revenue in the range of $300.0 million to $310.0 million, up from its previous guidance of $275.0 million to $295.0 million and representing a 30% to 35% increase year over year, and SYNA's revenue for fiscal 2014 is expected to be in the range of $933.0 million to $943.0 million, a 41% to 42% increase compared to fiscal 2013.
SYNA also announced the acquisition of all the outstanding equity of Renesas SP Drivers, Inc., the industry leader in small and medium-size display driver ICs (DDICs) for smartphones and tablets.
With the acquisition of Renesas SP Drivers, SYNA expects to increase its addressable market opportunity by 1.5X and to accelerate its product roadmap for touch-and-display driver integration. The combination enables platform-level solutions for select segments of the mobile market, while also extending its leadership position in Touch and DDIC product families.
For the year ended March 2014, Renesas SP Drivers' revenue and cash flow were approximately $650 million and $100 million, respectively. The combined business of SYNA and Renesas SP Drivers is expected to create significant revenue and investment scale to drive future growth and operating leverage. The acquisition will be immediately accretive to SYNA's non-GAAP EPS, excluding transaction related expenses.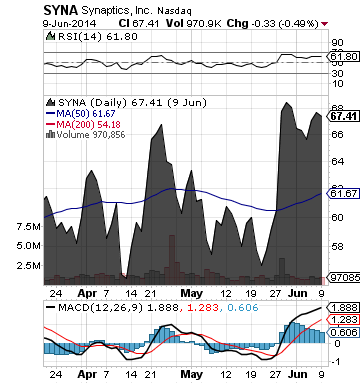 As a leading developer of human interface solutions which enhance the user experience, SYNA provides the broadest solutions portfolio in the industry.
More about Synaptics Inc. (SYNA) at www.synaptics.com.
**

BioLineRx Ltd. (NASDAQ:BLRX)
Celiac disease is a chronic, autoimmune, inflammatory, digestive disease that damages the small intestine and interferes with absorption of nutrients from food. People who have celiac disease cannot tolerate gluten, a protein in wheat, rye, and barley. Gluten is found mainly in foods but may also be found in everyday products such as medicines, vitamins, and lip balms.
Estimates suggest that 1% of the world's population is affected by celiac disease, and prevalence is expected to increase dramatically with improved diagnosis and awareness of the disease.
BLRX said that a Notice of Allowance has been issued by the United States Patent and Trademark Office for a patent claiming the composition of BL-7010, a novel, non-absorbable, orally available polymer intended for the treatment of celiac disease.
BLRX is currently testing BL-7010's safety and tolerability in a Phase 1/2 trial in well-controlled celiac patients, and results of the trial are expected in the next few weeks.
BL-7010 has a high affinity for gliadins, the immunogenic proteins present in gluten that cause celiac disease. By sequestering gliadins, BL-7010 effectively masks them from enzymatic degradation and prevents the formation of immunogenic peptides that trigger the immune system. This significantly reduces the immune response triggered by gluten. BL-7010 is excreted with gliadin from the digestive tract and is not absorbed into the blood.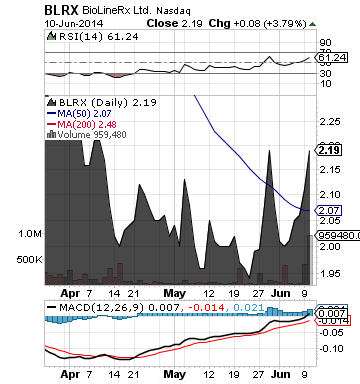 BLRX is a clinical-stage biopharmaceutical company dedicated to identifying, in-licensing and developing promising therapeutic candidates.
More about BioLineRx Ltd. (BLRX) at www.biolinerx.com
**
Read Full Disclaimer at www.finance.crwe-pr.com/disclaimer
Disclosure: The author has no positions in any stocks mentioned, and no plans to initiate any positions within the next 72 hours.