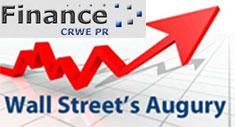 Restoration Hardware Holdings, Inc. (NYSE:RH)
Keep a close eye on RH. On record financial results, the company reported after the closing bell on Wednesday a strong performance demonstrating the disruptive nature of the RH brand and the power of its multi-channel business model
For the first quarter fiscal 2014, RH posted net revemues of $366.3 million, a 22% increase year over year, adjusted operating income of $14.0 million, a 204% increase compared to the same period the prior year, adjusted net income of $7.2 million, representing a 217% increase from $2.3 million in the first quarter fiscal 2013, and adjusted diluted EPS of $0.18, a 200% increase versus $0.06 during the prior year period.
RH is increasing its net revenue guidance for fiscal 2014 to grow in the range of 20% to 22%, and expects adjusted net income to grow in the range of 33% to 37%.
For fiscal year 2014, RH now expects net revenues in the range of $1.86 billion to $1.89 billion, adjusted net income in the range of $91.9 million to $94.3 million and adjusted diluted EPS in the range of $2.24 to $2.30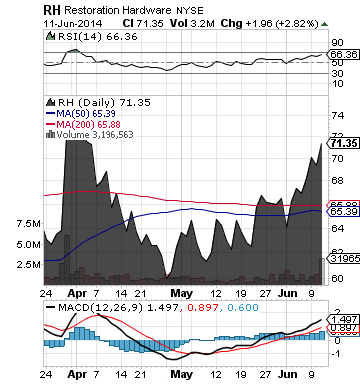 RH is a luxury brand in the home furnishings marketplace offering furniture, lighting, textiles, bathware, décor, outdoor and garden, as well as baby & child products. RH operates an integrated business with multiple channels of distribution including Galleries, Source Books and websites.
The company serves as a curator of the finest historical design the world has to offer. Its collections of timeless, updated classics and authentic reproductions provides a unique point of view and an unmatched combination of inspired design, high quality and unparalleled value. Each season brings a wealth of new ideas culled from its exclusive partnerships with the world's most renowned artisans, allowing RH to showcase their unique products, passion and vision.
RH operates galleries and outlets throughout the U.S. and Canada, while its Source Books and websites serve as virtual extensions and compelling tours of the brand. RH currently publishes Interiors, Small Spaces, Objects of Curiosity, Tableware, Outdoor and Baby & Child Source Books.
More about Restoration Hardware Holdings, Inc. (RH) at www.rh.com
**
Read Full Disclaimer at www.finance.crwe-pr.com/disclaimer
Disclosure: The author has no positions in any stocks mentioned, and no plans to initiate any positions within the next 72 hours.