Express Inc. (NYSE:EXPR)
A shareholder rights plan, also known as a "poison pill", is one of the most effective defense tactics available to publicly traded corporations. A poison pill is designed to make the transaction being pursued by a hostile bidder extremely unattractive from an economic perspective, compelling the bidder to negotiate with the target's Board of Directors.
EXPR confirmed that it has received a letter from Sycamore Partners, which owns approximately 9.9% of EXPR's outstanding shares, indicating that Sycamore Partners is interested in acquiring the Company.
EXPR has established a Special Committee of the Board to determine a course of action it believes is in the best interest of all stockholders.
EXPR also has adopted a Stockholder Rights Plan, which is intended to ensure all stockholders realize the long-term value of their investment in the Company and protect them from unfair or coercive takeover attempts. The Rights Plan is intended to provide the Board with sufficient time to consider any and all alternatives to an offer and does not prevent the Board from considering or accepting an offer, if the Board believes such action is fair, advisable and in the best interests of its stockholders.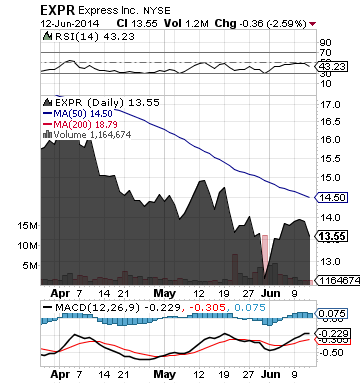 EXPR is a specialty apparel and accessories retailer of women's and men's merchandise, targeting the 20 to 30 year old customer. The Company has over 30 years of experience offering a distinct combination of fashion and quality for multiple lifestyle occasions at an attractive value addressing fashion needs across work, casual, jeanswear, and going-out occasions.
More about Express Inc. (EXPR) at www.express.com.
**

China Ming Yang Wind Power Group Limited (NYSE:MY)
MY reported that it has entered into a heads of agreement with Marin Energi Testcenter AS (MetCentre) to erect a 6.0MW Super Compact Drive (NYSE:SCD) wind turbine generator in the Karmoy wind turbine demonstration area off the coast of Karmoy Island in Norway. MetCentre is a Norwegian test centre for marine energy offering infrastructure and services to off-shore wind power.
The proposed cooperation and the pilot project are subject to certain conditions, including a detailed agreement which is expected to be entered into by both parties in late 2014.
MY's SCD wind turbine generators combine high reliability and lower weight by utilizing smaller permanent magnet power generators coupled with a smaller gearbox, housed in a water-cooled sealed nacelle with an innovative two-bladed design which can lock the blades in a horizontal position to withstand extreme off-shore weather conditions.
Recently, MY's subsidiary Jiangsu Mingyang Wind Power Technology Ltd. has been approved by Rudong Energy Bureau in Jiangsu Province, China, to exclusively develop and operate a 300MW off-shore wind power project off the coast of Rudong in Jiangsu Province, China, subject to certain conditions.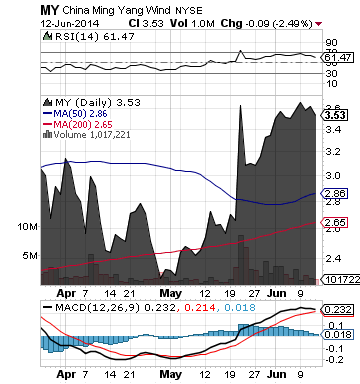 MY is a leading wind turbine manufacturer in China, focusing on designing, manufacturing, selling and servicing megawatt-class wind turbines.
More about China Ming Yang Wind Power Group Limited (MY) at ir.mywind.com.cn
**
Read Full Disclaimer at www.finance.crwe-pr.com/disclaimer
Disclosure: The author has no positions in any stocks mentioned, and no plans to initiate any positions within the next 72 hours.