bluebird bio, Inc. (NASDAQ:BLUE)
Beta-thalassemia is a blood disorder that reduces the production of hemoglobin. Hemoglobin is the iron-containing protein in red blood cells that carries oxygen to cells throughout the body.
Beta-thalassemia is classified into two types depending on the severity of symptoms: thalassemia major (also known as Cooley's anemia) and thalassemia intermedia. Of the two types, thalassemia major is more severe.
It is estimated that about 288,000 patients with beta-thalassemia are alive, of which an estimated 15,000 live in the United States and Europe. Symptoms of beta-thalassemia include severe anemia and splenomegaly. The majority of beta-thalassemia patients have beta-thalassemia major. .
BLUE released initial positive clinical data from its HGB-205 clinical study, designed to evaluate the safety and efficacy of the company's LentiGlobin BB305 drug product in the treatment of subjects with beta-thalassemia major and severe sickle cell disease.
According to the company, the first two patients in the HGB-205 Study achieved transfusion independence within two weeks of an autologous transplant and high-level production of corrected betaAT87Q-globin with BLUE's lentiviral gene therapy.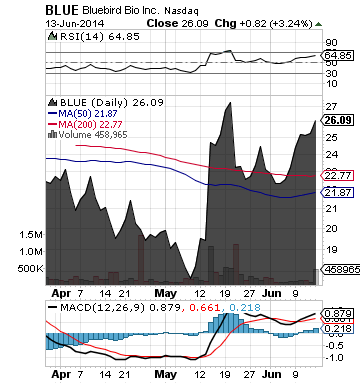 BLUE is a clinical-stage company committed to developing potentially transformative gene therapies for severe genetic and orphan diseases
More about bluebird bio, Inc. (BLUE) at www.bluebirdbio.com.
**

DARA BioSciences, Inc. (DARA)
Multiple myeloma is a cancer formed by malignant plasma cells. Normal plasma cells are found in the bone marrow and are an important part of the immune system.
Multiple myeloma is the second most common blood cancer after non-Hodgkin's lymphoma. The American Cancer Society estimates that more than 24,000 new cases of the disease will be diagnosed in 2014.
The U.S. Food and Drug Administration (FDA) grants orphan drug designation to therapeutics intended to treat diseases that affect fewer than 200,000 people in the United States.
DARA reported that the FDA has granted Orphan Drug Designation to the experimental compound KRN5500 for the treatment of multiple myeloma.
DARA's KRN5500 is a novel, intravenous, non-opioid, non-narcotic compound currently in Phase 2 clinical development. Earlier this year, KRN5500 received orphan status to be developed for the parenteral treatment of painful, chronic, chemotherapy-induced peripheral neuropathy (CCIPN) that is refractory to conventional analgesics in patients with cancer. In 2011, the FDA designated KRN5500 as a Fast Track program which expedites the development pathway and consideration for priority review.
Orphan Drug Designation provides DARA with seven years market exclusivity from the time of approval, tax credits, and the waiver of PDUFA filing fees, as well as access to federal grants.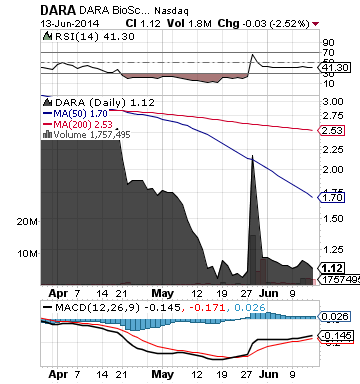 DARA is an oncology supportive care pharmaceutical company dedicated to providing healthcare professionals a synergistic portfolio of medicines to help cancer patients adhere to their therapy and manage side effects arising from their cancer treatments.
More about DARA BioSciences, Inc. (DARA) at www.darabiosciences.com
**

Limelight Networks, Inc. (NASDAQ:LLNW)
Keep a close eye on LLNW. It has received an unsolicited offer to purchase the company from an entity that management believes is a non-credible source.
Under the proposal, first reported by media outlets, then confirmed via phone and follow up email, on June 13, Tuition Build Inc. has offered to purchase and take private LLNW for $644.7 million or $6.55 per share if certain unspecified financial thresholds were satisfied.
Representatives of LLNW contacted Tuition Build to make inquiries regarding its proposal and ability to complete the proposed transaction. Based on these inquiries, as well as independent investigations of Tuition Build, management has concluded that Tuition Build does not have the experience, credentials, financial resources, or capability to complete the proposed transaction, and that Tuition Build's stated interest in acquiring LLNW is not an actionable proposal.
Accordingly, management believes current and prospective investors in LLNW should disregard Tuition Build's proposal.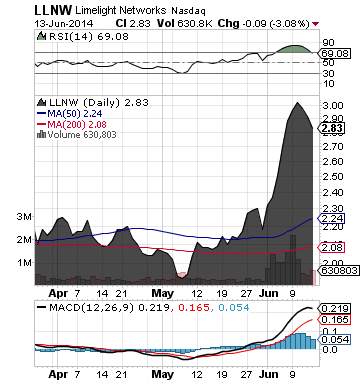 LLNW, a global leader in digital content delivery, empowers customers to better engage digital audiences by enabling them to manage and deliver digital content on any device, anywhere in the world.
More about Limelight Networks, Inc. (LLNW) at www.limelight.com
**
Read Full Disclaimer at www.finance.crwe-pr.com/disclaimer
Disclosure: The author has no positions in any stocks mentioned, and no plans to initiate any positions within the next 72 hours.