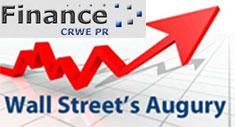 Amira Nature Foods Ltd. (NYSE:ANFI)
Keep a close eye on ANFI. The company reported a solid performance on its financial results, highlighted by strong growth in sales, improved operating margins and nearly doubled income.
For the fourth quarter fiscal 2014, ANFI posted revenue of $186.6 million, a 33.0% increase year over year, adjusted EBITDA of $26.4 million, a 45.4% increase compared to the same period the prior year, adjusted profit after tax of $16.8 million, increased 97.2% versus the comparable period the prior year, and adjusted earnings per share of $0.47 compared to $0.24 in the fourth quarter of fiscal 2013.
For the full year fiscal 2014, ANFI's revenue increased 32.3% to $547.3 million, adjusted EBITDA increased 44.0% to $75.5 million, adjusted profit after tax, which excludes non-cash expenses for share based compensation of approximately $2.9 million, increased 93.2% to $41.0 million, all compared to the full year fiscal 2013
According to its business outlook, for fiscal 2015 ANFI expects revenue and Adjusted EBITDA to increase by more than 20%. ANFI maintains its long term outlook for $1 billion in revenue and $150 million in Adjusted EBITDA as has been previously communicated to investors as part of its initial public offering. This outlook is based on current foreign exchange rates.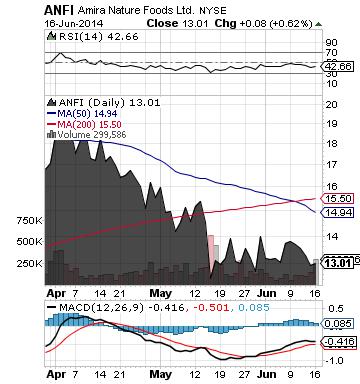 ANFI sells Basmati rice, a premium long-grain rice grown only in certain regions of the Indian sub-continent, under their flagship Amira brand as well as under other third party brands. ANFI sells its products primarily in emerging markets through a broad distribution network.
More about Amira Nature Foods Ltd. (ANFI) at www.amirafoods.com.
**
Read Full Disclaimer at www.finance.crwe-pr.com/disclaimer
Disclosure: The author has no positions in any stocks mentioned, and no plans to initiate any positions within the next 72 hours.