CarMax Inc. (NYSE:KMX)
Keep a close eye on KMX. The company reported another great quarter, hitting an all-time record level of quarterly sales and earnings.
For the first quarter ended May 31, 2014, KMX posted net sales and operating revenues of $3.75 billion, a 13.3% increase year over year, gross profit of $501.7 million, a 12.0% increase compared to the same period the prior year, net earnings of $169.7 million, representing a 15.7% increase versus the comparable period the prior year, and net earnings per diluted share of $0.76, a 18.8% increase from $0.64 in the first quarter ended May 31, 2013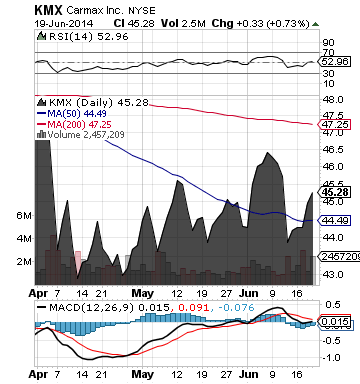 KMX is the nation's largest retailer of used vehicles. It currently operates 136 used car superstores in 68 markets.
More about CarMax Inc. (KMX) at www.carmax.com.
**

Dejour Energy Inc. (DEJ)
DEJ reported that, subject to final approval from the TSX, it will acquire a further 24% Working Interest in its legacy Woodrush oil and gas production project.
The acquired 24% interest encompasses production from 3 oil wells, 6 gas wells, sour gas processing facilities and 8,000 net acres prospective for additional reserve growth and productivity. As of Q1 2014, the subject interests to be acquired accounted for net production of 70 BOE of daily production (70% oil).
This transaction has an effective date of June 1, 2014 and is expected to close on or before July 3, 2014. When completed, DEJ will own a 99% working interest in these legacy Woodrush properties.
At the end of Q2 2014, DEJ estimates the Woodrush/ Hunter complex will contribute 480 BOE/d to its production base with netbacks better than $38.00/BOE (oil and gas combined). DEJ plans to invest up to $2.5mm to further develop reserves at Woodrush, beginning in Q3 2014. On a 75% risked basis the anticipated development plan could add over 300 additional BOE/d prior to YE 2014.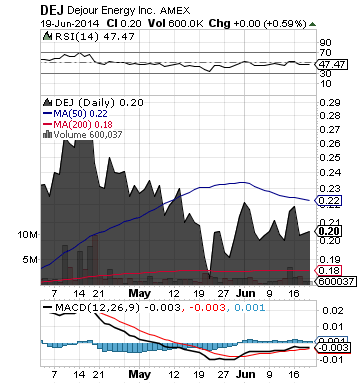 DEJ is an independent oil and natural gas exploration and production company operating projects in North America's Piceance Basin (56,500 net acres) and Peace River Arch regions (17,000 net acres).
More about Dejour Energy Inc. (DEJ) at www.dejour.com
**`
Read Full Disclaimer at www.finance.crwe-pr.com/disclaimer
Disclosure: The author has no positions in any stocks mentioned, and no plans to initiate any positions within the next 72 hours.