Valeant Pharmaceuticals International, Inc. (NYSE:VRX)
VRX recently reported that it has commenced an exchange offer for the common stock of Allergan, Inc., taking its May 30th proposal directly to Allergan stockholders.
Under the terms of the offer, Allergan stockholders would be able to elect to exchange each of their Allergan shares for $72.00 in cash and 0.83 VRX common shares, or an amount of cash, or a number of VRX common shares, in each case subject to proration.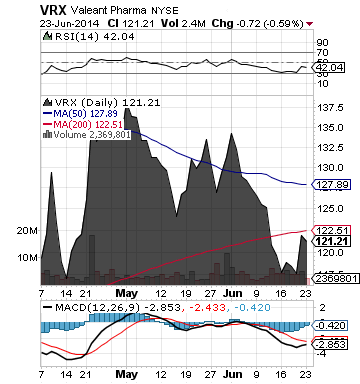 VRX is a multinational specialty pharmaceutical company that develops, manufactures and markets a broad range of pharmaceutical products primarily in the areas of dermatology, eye health, neurology and branded generics.
More about Valeant Pharmaceuticals International, Inc. (VRX) at www.valeant.com.
**

Allergan Inc. (NYSE:AGN)
AGN said that its Board of Directors, after consultation with its independent financial and legal advisors, unanimously determined that Valeant Pharmaceuticals International, Inc.'s unsolicited exchange offer to acquire all outstanding common shares of AGN is grossly inadequate, substantially undervalues the Company, creates significant risks and uncertainties for AGN stockholders, and is not in the best interests of the Company and its stockholders.
Accordingly, the Board strongly recommends that Allergan stockholders not tender any AGN shares to Valeant.
Seeking to win over shareholders, AGN's CEO said that the company will raise its earnings outlook when it reports second-quarter results in late July or early August.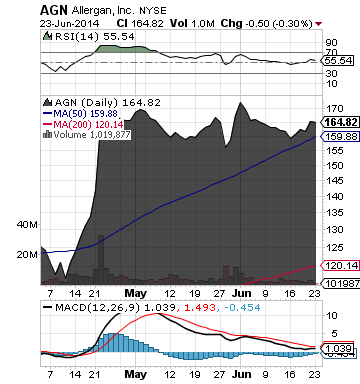 AGN operates as a multi-specialty health care company primarily in the United States, Europe, Latin America, and the Asia Pacific. AGN discovers, develops, and commercializes pharmaceutical, biological, medical device, and over-the-counter products for the ophthalmic, neurological, medical aesthetics, medical dermatology, breast aesthetics, urological, and other specialty markets.
More about Allergan Inc. (AGN) at www.allergan.com.
**

AbbVie Inc. (NYSE:ABBV)
ABBV has raised its 2014 adjusted profit guidance, and the company now expects 2014 adjusted earnings in the range of $3.06 to $3.16 per share, up from its prior range view of $3.00 to $3.10.
Brokerage firm Argus has raised its price target on ABBV from $59.00 to $65.00 per share.
ABBV recently made an indicative approach to Shire plc with a $46 billion takeover offer which was rejected by the Board of Shire.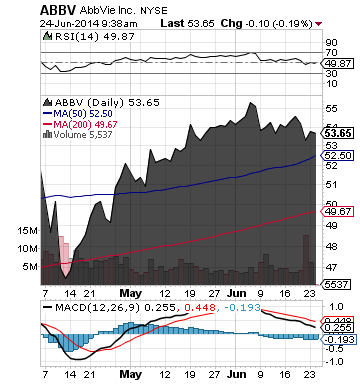 ABBV is a global, research-based biopharmaceutical company formed in 2013 following separation from Abbott.
More about AbbVie Inc. (ABBV) at www.abbvie.com
**
Shire plc (NASDAQ:SHPG)
Last week, SHPG confirmed that on 30 May 2014, Shire received an unsolicited and highly conditional proposal from AbbVie regarding a possible cash and share offer for Shire. This Proposal has been rejected.
According to reports, SHPG has hired Goldman Sachs as an adviser as it looks to fend off a takeover offer. Allergan also has been rumored as a potential bidder for the company.
SHPG has provided new, long-term, financial targets which highlight the significant potential for shareholder value creation. From 2013 to 2020 SHPG is targeting sustainable product sales growth leading to annual product sales (excluding the impact of any additional M&A, licensing and certain recent acquisitions) of US$10 billion by 2020, comprising US$7 billion from in-line product sales and US$3 billion in sales from existing pipeline products. In the medium term SHPG is also targeting annual product sales of US$6.5 billion by 2016.
SHPG is aiming to become a leading high-growth global biotechnology group and to build upon its leadership position in Rare Diseases by executing additional phases of its efficiency program, commercialising and progressing its existing pipeline and adding new growth through business development and internal research.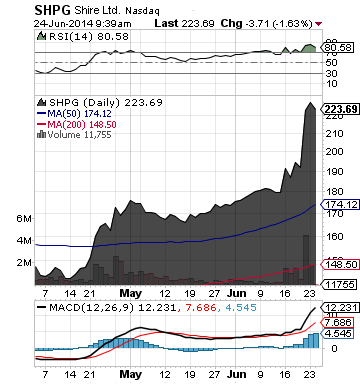 SHPG, a biopharmaceutical company, together with its subsidiaries, researches, develops, licenses, manufactures, markets, distributes, and sells pharmaceutical products
More about Shire plc (SHPG) at www.shire.com.
**
Read Full Disclaimer at www.finance.crwe-pr.com/disclaimer
Disclosure: The author has no positions in any stocks mentioned, and no plans to initiate any positions within the next 72 hours.