Ballard Power Systems Inc. (NASDAQ:BLDP)
BLDP reported that it has signed a definitive agreement for the sub-license of its intellectual property to M-Field Energy Corporation for material handling systems to be deployed in Europe. BLDP will also provide M-Field with Engineering Services support into early-2015 through Dantherm Power A/S, the Company's subsidiary in Denmark, to assist in optimizing system integration activities utilizing BLDP fuel cell stacks.
The agreement has a value of approximately $1 million.
Also under the agreement, BLDP will be the exclusive supplier of fuel cell stacks - including the FCgen(NYSE:TM)-1020ACS air-cooled and FCvelocity(TM)-9SSL liquid-cooled stack products - for all material handling systems deployed by M-Field in Europe.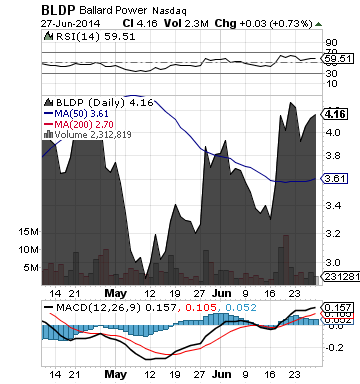 BLDP provides clean energy fuel cell products enabling optimized power systems for a range of applications.
More about Ballard Power Systems Inc. (BLDP) at www.ballard.com.
**

InterOil Corporation (NYSE:IOC)
IOC reported the sale of companies that hold its Papua New Guinea oil refinery and petroleum products distribution businesses to Singapore-based Puma Energy Group Pte for US$525.6 million, which includes adjustments for cash and working capital.
IOC's COO said the sale followed an unsolicited approach from Puma Energy and a strategic review by IOC of options for the best allocation of capital.
According to IOC, its upstream and LNG business has become core to the company's growth and, as a result of the success the company has had in discovering and monetizing gas, the time is right to focus on this part of its business.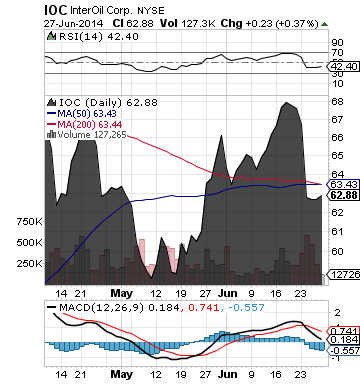 IOC is an independent oil and gas business with a primary focus on Papua New Guinea. IOC's assets include one of Asia's largest undeveloped gas fields, Elk-Antelope, in the Gulf Province, and exploration licences covering about 16,000sqkm.
More about InterOil Corporation (IOC) at www.interoil.com
**
Read Full Disclaimer at www.finance.crwe-pr.com/disclaimer
Disclosure: The author has no positions in any stocks mentioned, and no plans to initiate any positions within the next 72 hours.