Kofax Limited (NASDAQ:KFX)
KFX reported selected preliminary unaudited financial results for its fiscal year ended June 30, 2014.
KFX expects to report unaudited IFRS software license revenue in the range of $116.5 to $118.5 million, total revenues in the range of $287.5 to $290.5 million and income from operations in the range of $33.5 to $35.5 million, and unaudited Non-IFRS software license revenue in the range of $122.5 to $124.5 million, total revenues in the range of $295.0 to $298.0 million and adjusted earnings before interest, taxes, depreciation and amortization (adjusted EBITDA) in the range of $41.0 to $43.0 million. KFX's fiscal year end cash is expected to be in the range of $89.0 to $90.0 million.
KFX said that it is disappointed with the preliminary unaudited Non-IFRS financial results, which reflect software license revenue, total revenues and adjusted EBITDA levels below the guidance previously provided to the financial community, primarily attributable to several seven figure software license revenue transactions totaling approximately $6.0 million slipping into future quarters during the last few days of KFX's fourth quarter. The company believes it will close these transactions during the first and second quarters of fiscal year 2015.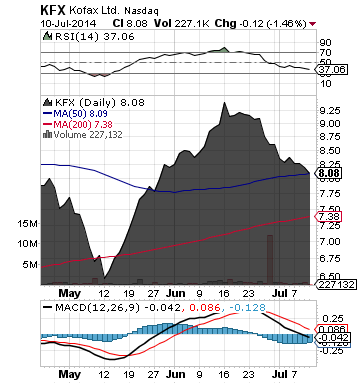 KFX is a leading provider of smart process applications that simplify the business critical First Mile(NYSE:TM) of information-intensive customer interactions. The company combines market leading capture, process management, analytics and mobile capabilities that enable organizations to increase their responsiveness to customers, provide better service, gain a competitive advantage and better grow their businesses while reducing operating costs.
More about Kofax Limited (KFX) at www.kofax.com.
**
Crown Equity Holdings Inc. (OTCPK:CRWE)

With its Division iB2B Global ( www.ib2bglobal.com ), CRWE is targeting the multi-billion dollar online b2b market.
CRWE's iB2BGlobal.com is an international leader in wholesale business transactions between buyers and sellers worldwide. It was created to bring business communities from similar and different continents together online, enabling a cost effective access point for bulk products to be bought, sold and shipped in a timely manner.
Buyers and sellers can register for free at iB2BGlobal.com and get integrated immediately into the global business network with various advertising and marketing strategies at their disposal.
CRWE provides marketing solutions that boost customer awareness and merchant visibility on the Internet. The company is currently developing its CRWE Network (CRWE-PR.com), a social networking service which business model is based on selling advertising to businesses targeting both locally and nationally.
The CRWE Network has reached the 816th community website in the U.S., associated with 2387 ZIP Codes, and includes coverage of the greater state of California, Northern and Southern Nevada, Wellington in Florida, Hattiesburg in Mississippi and 10 provinces in Canada.
CRWE Network's goal is to facilitate exchanges of goods and services in a manner similar to Craigslist, a classified advertisements website with sections devoted to jobs, housing, personals, for sale, items wanted, services, community, gigs, résumés, and discussion forums, while providing micro community news, information and business directory content.
The CRWE-PR Finance website ( www.finance.crwe-pr.com ) allows Crown Equity Holdings the instant distribution of information to the entire CRWE Network.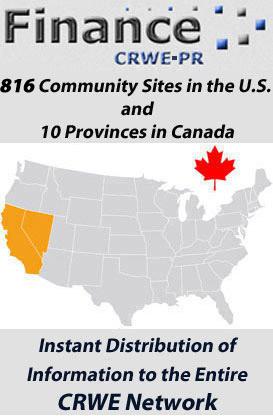 More about Crown Equity Holdings Inc. (OTCPK:CRWE) at www.crownequityholdings.com
**

Joe's Jeans Inc. (NASDAQ:JOEZ)
Keep a close eye on JOEZ. The company reported strong performance on its financial results.
For its second quarter fiscal 2014, JOEZ posted overall net sales of $48.2 million, a 56% increase year over year, overall gross profit of $22.6 million, a 67% increase compared to the same period the prior year, and net income of $2.3 million versus $1.2 million in the second quarter fiscal 2013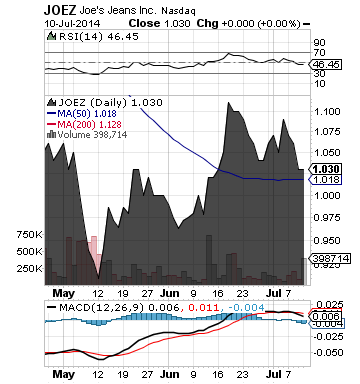 JOEZ designs, produces and sells apparel and apparel-related products to the retail and premium markets under the Joe's(NYSE:R) brand and related trademarks. JOEZ also acquired in September 2013 Hudson Clothing Holdings, Inc., a leading global designer and marketer of women's and men's premium branded denim apparel bearing the Hudson(R) brand name, and operates it as a wholly owned subsidiary.
More about Joe's Jeans Inc. (JOEZ) at www.joesjeans.com
**
Read Full Disclaimer at www.finance.crwe-pr.com/disclaimer
Disclosure: The author has no positions in any stocks mentioned, and no plans to initiate any positions within the next 72 hours.