Shire plc (NASDAQ:SHPG)
In an attempt to bring SHPG's board to the negotiating table, AbbVie Inc. (NYSE:ABBV) on Tuesday raised its offer for SHPG to about $51.5 billion.
After a report indicating that the company is negotiating with AbbVie for a deal to combine the two firms, SHPG confirmed on Friday that it has held a meeting with representatives of AbbVie.
U.S. drugmaker AbbVie has a July 18 deadline set by U.K. regulations to work out an agreement with SHPG. If no deal is approved by then, AbbVie must walk away for as long as six months.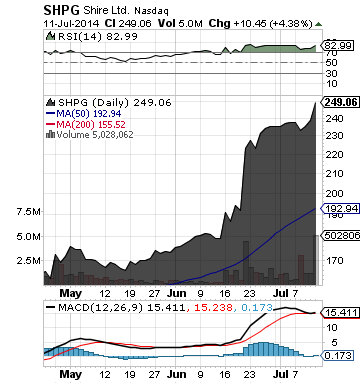 SHPG enables people with life-altering conditions to lead better lives. SHPG focus on providing treatments in Neuroscience, Rare Diseases, Gastrointestinal, and Internal Medicine and the company is developing treatments for symptomatic conditions treated by specialist physicians in other targeted therapeutic areas, such as Ophthalmology.
More about Shire plc (SHPG) at www.shire.com
**

Barrick Gold Corporation (NYSE:ABX)
ABX reported that it has reached an agreement to form a joint venture with Saudi Arabian Mining Company (Ma'aden) to operate the Jabal Sayid copper mine, located 120 kilometers southeast of Medina, Saudi Arabia.
Under the agreement, ABX and Ma'aden will each own 50% of the new joint venture. Ma'aden will acquire its 50% interest in the project for cash consideration of $210 million. The acquisition is expected to be completed in the fourth quarter of 2014 and is subject to customary closing conditions.
According to ABX, once in production, Jabal Sayid will be a high-quality, low-cost underground copper mine capable of generating substantial free cash flow.
Jabal Sayid is expected to commence production in late 2015 and when fully operational is anticipated to produce approximately 100-130 million pounds of copper in concentrate per year during its first full five years of operation. The mine is expected to operate for up to 15 years on the basis of 1.4 billion pounds of copper in proven and probable reserves as at December 31, 2013. Further exploration work will be carried out within the mining license area and the exploration license area surrounding the mine with the aim of extending the mine life.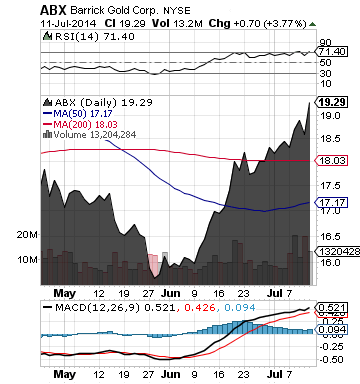 ABX operates mines and advanced exploration and development projects on five continents, and holds large land positions on some of the most prolific and prospective mineral trends.
More about Barrick Gold Corporation (ABX) at www.barrick.com
**
Read Full Disclaimer at www.finance.crwe-pr.com/disclaimer
Disclosure: The author has no positions in any stocks mentioned, and no plans to initiate any positions within the next 72 hours.