Codexis, Inc. (NASDAQ:CDXS)
A biocatalyst is an enzyme or microbe that initiates and accelerates a chemical reaction.
The use of biocatalysts to manufacture pharmaceuticals has the potential to reduce the number of manufacturing steps, reduce the use of hazardous chemicals and the production of toxic waste, and reduce the energy intensity of the process.
Pharmaceutical manufacturers use CDXS' biotechnology platform to increase purity and yields and produce less toxic waste.
CDXS reported the signing of a platform technology license agreement with GlaxoSmithKline plc (GSK), one of the world's leading research-based pharmaceutical and healthcare companies.
Under the terms of the agreement, CDXS granted GSK a license to use CDXS' proprietary CodeEvolver(NYSE:R) protein engineering platform technology in the field of human healthcare. The license allows GSK to use CDXS' platform technology to develop novel enzymes for use in the manufacture of GSK's pharmaceutical and health care products. GSK may also use the licensed technology to develop new therapeutic, diagnostic and prophylactic products in the human health field.
CDXS is eligible to receive up to $25 million over approximately the next two years, $6 million of which will be paid upfront shortly after signing and an additional $19 million subject to satisfactory completion of technology transfer milestones. CDXS also has the potential to receive numerous additional milestone payments that range from $5.75 million to $38.5 million per project based on GSK's successful application of the licensed technology. In addition, CDXS will be eligible to receive royalties based on net sales, if any, of a limited set of products developed by GSK using CDXS' CodeEvolver protein engineering platform technology.
The agreement marks the first time that CDXS has licensed its protein engineering platform technology to any party in the healthcare field, and reinforces both companies' belief that biocatalysts, engineered by CDXS' CodeEvolver technology, may increasingly be deployed to reduce the cost and increase the efficiency of pharmaceutical manufacturing.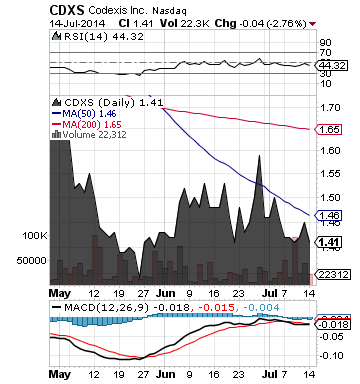 CDXS' CodeEvolver protein engineering platform technology, covered by more than 150 issued patents and pending patent applications worldwide, enables rapid development of custom-designed enzymes that are highly optimized for efficient manufacturing processes. The CodeEvolver platform is comprised of proprietary methods for the optimization of proteins through the design and generation of diverse genetic libraries, automated screening techniques, algorithms for the interpretation of screening data and predictive modelling.
CDXS is a leading developer of biocatalysts for pharmaceutical and fine chemical production.
More about Codexis, Inc. (CDXS) at www.codexis.com.
**
Disclaimer: This material is for informational purposes only and should not be construed as an offer or solicitation of an offer to buy or sell securities. Investors should always conduct their own due diligence with any potential investment, with independent research and other professional advice. Entire Disclaimer at www.crownequityholdings.com/disclaimer.html
Disclosure: The author has no positions in any stocks mentioned, and no plans to initiate any positions within the next 72 hours.