Canadian Pacific Railway Limited (NYSE:CP)
CP has a vigorous zero-tolerance drug and alcohol program, but companies in Canada are limited under Canadian law as random drug and alcohol testing is prohibited.
CP reported that it will be asking the Superior Court of Quebec to stay a July 14, 2014 decision by the Canadian Railway Office of Arbitration (CROA), which ruled a locomotive engineer, who consumed cocaine at a time and of a quantity which could impact his duties, must be reinstated.
CP also said it will be appealing the agency's order to the Superior Court of Quebec asking it to overturn the decision.
The CROA decision stems from an incident in December, 2012 in which the crew, operating a freight train, committed a serious rules violation. The crew was drug tested following the incident and the arbitrator found that the results indicated that the engineer had consumed cocaine. Nevertheless, the arbitrator ordered that the employee be reinstated.
According to CP, the decision sets a dangerous precedent and is grossly unacceptable for the safe operation of a railway.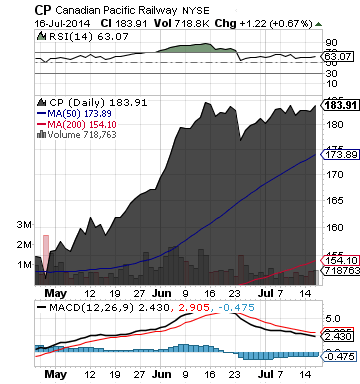 CP is a transcontinental railway in Canada and the United States with direct links to eight major ports, including Vancouver and Montreal, providing North American customers a competitive rail service with access to key markets in every corner of the globe.
More about Canadian Pacific Railway Limited (CP) at www.cpr.ca
**

United Rentals, Inc. (NYSE:URI)
Keep a close eye on URI. The company reported strong performance on its financial results.
For the second quarter 2014, URI posted total revenue of $1.399 billion and rental revenue of $1.179 billion, compared with $1.206 billion and $1.009 billion, respectively, in the same period the prior year, and GAAP net income of $94 million, or $0.90 per diluted share, compared with $83 million, or $0.78 per diluted share, for the second quarter 2013
URI has raised its full year 2014 guidance, and now expects total revenue in the range of $5.55 billion to $5.65 billion, up from the prior guidance range of $5.45 billion to $5.65 billion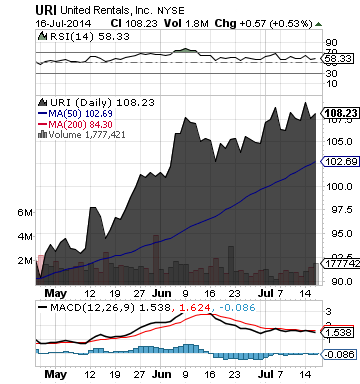 URI is the largest equipment rental company in the world.
More about United Rentals, Inc. (URI) at www.unitedrentals.com
**
Read Full Disclaimer at www.finance.crwe-pr.com/disclaimer
Disclosure: The author has no positions in any stocks mentioned, and no plans to initiate any positions within the next 72 hours.