Puma Biotechnology, Inc. (NASDAQ:PBYI)
Breast cancer is a malignant tumor that starts in the cells of the breast. A malignant tumor is a group of cancer cells that can grow into (invade) surrounding tissues or spread (metastasize) to distant areas of the body.
The National Cancer Institute estimated that 232,670 (female) and 2,360 (male) people in the U.S. would be diagnosed with breast cancer in 2014 and as many as 40,000 (female) and 430 (male) people will die from the disease during the year.
HER2 (human epidermal growth factor receptor 2) is one such gene that can play a role in the development of breast cancer. Breast cancers with HER2 gene amplification or HER2 protein overexpression are called HER2-positive and tend to grow faster.
PBYI reported top line results from the Phase III clinical trial of the company's investigational drug PB272 (neratinib) for the extended adjuvant treatment of breast cancer (ExteNET Trial).
The ExteNET trial is a double-blind, placebo-controlled, Phase III trial of neratinib versus placebo after adjuvant treatment with trastuzumab (Herceptin) in women with early stage HER2-positive breast cancer.
- The primary endpoint of the trial was disease free survival (NYSE:DFS). The results of the trial demonstrated that treatment with neratinib resulted in a 33% improvement in disease free survival versus placebo.
- The secondary endpoint of the trial was disease free survival including ductal carcinoma in situ (DFS-DCIS). The results of the trial demonstrated that treatment with neratinib resulted in a 37% improvement in disease free survival including ductal carcinoma in situ versus placebo.
According to PBYI, this represents the first trial with a HER2 targeted agent that has shown a statistically significant benefit in the extended adjuvant setting, which the company believes provides a meaningful point of differentiation for neratinib in the treatment of HER2 positive breast cancer
PBYI's PB272 is a potent irreversible tyrosine kinase inhibitor, for the treatment of patients with HER2-positive breast cancer and patients with non-small cell lung cancer, breast cancer and other solid tumors that have a HER2 mutation.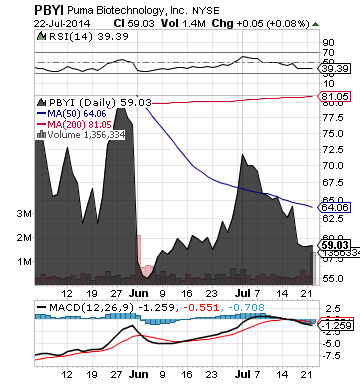 PBYI is a development stage biopharmaceutical company that acquires and develops innovative products for the treatment of various forms of cancer. PBYI focuses on in-licensing drug candidates that are undergoing or have already completed initial clinical testing for the treatment of cancer and then seeks to further develop those drug candidates for commercial use.
More about Puma Biotechnology, Inc. (PBYI) at www.pumabiotechnology.com
**

ARM Holdings plc (NASDAQ:ARMH)
Keep a close eye on ARMH. The company reported a large increase in profit on its financial results.
For the second quarter 2014, ARMH posted total dollar revenues of $309.6 million, a 17% increase year over year and sterling revenues of 187.1 million pounds from 171.2 million pounds in the second quarter 2013. For the period, ARMH's profit after tax soared to 55.5 million pounds from 10.5 million pounds, while its earnings per share surged to 3.9 pence from 0.8 pence, both compared to the same period the prior year.
According to the company, ARMH enters the second half of the year with a healthy pipeline of opportunities that is expected to both underpin continued strong licence revenue and give rise to an increase in the level of backlog. Market data indicates improving semiconductor industry conditions, leading to the expectation of an acceleration in royalty revenue growth in H2 2014. Given these dynamics, ARMH expects Group dollar revenues for full year 2014 to be in line with market expectations.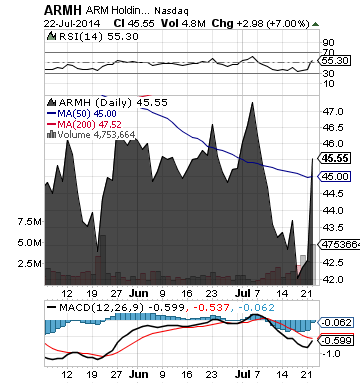 ARMH is at the heart of the world's most advanced digital products. Its technology enables the creation of new markets and transformation of industries and society. ARMH designs scalable, energy-efficient processors and related technologies to deliver the intelligence in applications ranging from sensors to servers, including smartphones, tablets, enterprise infrastructure and the Internet of Things.
More about ARM Holdings plc (ARMH) at www.arm.com
**
Read Full Disclaimer at www.finance.crwe-pr.com/disclaimer
Disclosure: The author has no positions in any stocks mentioned, and no plans to initiate any positions within the next 72 hours.