NovaBay Pharmaceuticals, Inc. (NYSEMKT:NBY)
It is estimated that 23 million Americans chronically suffer from inflammation of the eyelids, known as blepharitis, and another 13 million struggle with the debilitating condition of meibomian gland dysfunction ("dry eye").
NBY recently reported that it will initiate a major marketing campaign and commercialization effort for the company's new eye care product, i-Lid(NYSE:TM) Cleanser.
The marketing campaign will target both optometrists and ophthalmologists, explaining why i-Lid Cleanser is a significant advance in the care of "dry eye" and blepharitis.
Already cleared by the FDA through its 510(k) process, NBY's Advanced i-Lid Cleanser can help patients with irritation of their eyelids by cleaning their lids and lashes and removing debris and microorganisms that often lead to vision problems.
NBY estimates the U.S. market size to be approximately $500 million with currently no products offering the unique advantages of i-Lid Cleanser. Importantly, NBY's i-Lid Cleanser is the first non-detergent, non-irritating product to be prescribed for these conditions.
NBY will deploy a dedicated field sales force to market i-Lid Cleanser in New York City, Los Angeles, Boston, Atlanta, Dallas and other high value markets around the United Sates.
Furthermore, NBY said in a letter to shareholders that enrollment in its BAYnovation clinical trial for viral conjunctivitis has been completed and the company is in the process of accumulating the data from U.S. and international sites. NBY anticipates reporting top-line results mid-August.
BAYnovation was designed to evaluate the efficacy of NBY's Auriclosene Ophthalmic Solution in the treatment of adenoviral infection, specifically for accelerated clearing the "red eye".
While clearing of "red eye" is the primary efficacy measure, there are a number of valuable and important secondary measures that will allow NBY to evaluate the ability to expand its ultimate label claims. These include: clearing of virus from the eye; clearing of blurred vision; reduction in the spread of infection from one eye to the other; prevention of and/or reduction in the severity of subepithelial infiltrates post infection.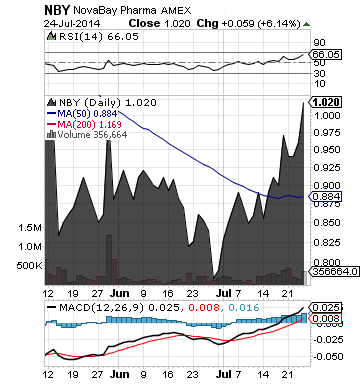 NBY is a clinical-stage biopharmaceutical company focused on addressing the unmet therapeutic needs of the global, topical anti-infective market with its Aganocide(NYSE:R) compounds, led by auriclosene.
Auriclosene is a new chemical entity invented by NBY and has a broad spectrum of activity against bacteria, viruses and fungi. Aganocide compounds are based on the human body's natural immune system and the molecules involved in combating infections. Bacterial resistance to Aganocides is highly unlikely, as demonstrated in in vitro studies. Once pathogens penetrate the body's primary defense, the next line of defense is provided by the white blood cells.
NBY has focused on understanding these molecules generated by the white blood cells and finding ways, by chemical modification, to allow them to be developed as therapeutic products with the potential to treat a wide range of local, non-systemic infections. NBYy believes that if Aganocides begin to supplement and thereby reduce the usage of classic topical antibiotics, they will help slow the rise of antibiotic resistance.
More about NovaBay Pharmaceuticals, Inc. (NBY) at www.novabay.com
**

GlaxoSmithKline plc (NYSE:GSK)
GSK reported that it has submitted a regulatory application to the European Medicines Agency (NYSEMKT:EMA) for its malaria vaccine candidate, RTS,S.
The submission will follow the Article 58 procedure, which allows the EMA to assess the quality, safety and efficacy of a candidate vaccine, or medicine, manufactured in a European Union (NYSEARCA:EU) member state, for a disease recognised by the World Health Organization (WHO) as of major public health interest, but intended exclusively for use outside the EU. This assessment is done by the EMA in collaboration with the WHO, and requires products to meet the same standards as vaccines or medicines intended for use in the EU. Eligibility for the application was granted by the CHMP after agreement from WHO that RTS,S met criteria for such an evaluation.
GSK's RTS,S is intended exclusively for use against the Plasmodium falciparum malaria parasite, which is most prevalent in sub-Saharan Africa (SSA). Around 90% of estimated deaths from malaria occur in SSA, and 77% of these are in children under the age of 5.
GSK's RTS,S aims to trigger the body's immune system to defend against the P falciparum malaria parasite when it first enters the human host's bloodstream and/or when the parasite infects liver cells. The vaccine is designed to prevent the parasite from infecting, maturing and multiplying in the liver, after which time the parasite would re-enter the bloodstream and infect red blood cells, leading to disease symptoms.
Furthermore, GSK said that the U.S. Food and Drug Administration (FDA) has approved Flonase(R) Allergy Relief (fluticasone propionate 50 mcg spray), containing the No. 1 prescribed allergy treatment ingredient, as an over-the-counter (OTC) treatment for temporary relief of the symptoms of hay fever or upper respiratory allergies
Roughly 50 million people in the United States suffer from nasal allergies. Symptoms of nasal allergies (allergic rhinitis) include sneezing, congestion, runny nose; itchy or sore throat, post-nasal drip and cough; and red, itchy watery eyes. Allergy symptoms can lead to fatigue, sleep disturbances, learning and attention problems and impaired function at work and/or school.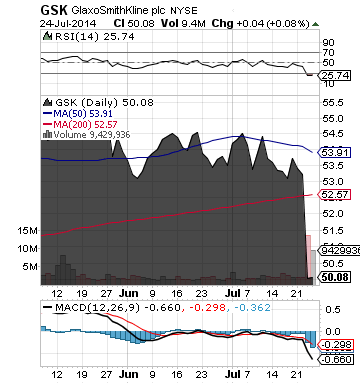 GSK - one of the world's leading research-based pharmaceutical and healthcare companies - is committed to improving the quality of human life by enabling people to do more, feel better and live longer.
More about GlaxoSmithKline plc (GSK) at www.gsk.com.
**
Read Full Disclaimer at www.finance.crwe-pr.com/disclaimer
Disclosure: The author has no positions in any stocks mentioned, and no plans to initiate any positions within the next 72 hours.