Array BioPharma, Inc. (NASDAQ:ARRY)
Developing a new drug or device can be expensive. Because rare diseases affect a relatively small number of people, drug companies generally demonstrate little interest in performing research or development of new products to treat such diseases. Developers face a further difficulty in testing potential treatments because it is difficult to recruit a sufficient number of people to study safety and effectiveness.
The Orphan Drug Act (ODA) provides for granting special status to a drug or biologic (such as a vaccine or blood product) to treat a rare disease or condition upon request of a sponsor. This status is referred to as orphan designation. The ODA defines a disease as rare if fewer than 200,000 people in the United States have it.
Orphan designation qualifies the sponsor of the drug for various development incentives of the ODA, including tax credits for the costs of clinical research, seven-year period of exclusive marketing after an orphan drug is approved, and the waiver of Prescription Drug User Fee Act (PDUFA) filing fees, as well as access to federal grants.
The U.S. Food and Drug Administration (FDA) has granted Orphan Drug Designation to binimetinib for ovarian cancer treatment.
Ovarian cancer is cancer that forms in tissues of the ovary (one of a pair of female reproductive glands in which the ova, or eggs, are formed). It is the deadliest of gynecologic cancers, representing the tenth most common cancer among women and the fifth leading cause of cancer-related death among women.
The National Cancer Institute estimated that 21,980 women in the U.S. would be diagnosed with ovarian cancer in 2014 and as many as 14,270 women will die from the disease.
Invented by ARRY, binimetinib is an oral small-molecule MEK inhibitor. MEK is a key protein kinase in the RAS/RAF/MEK/ERK pathway, which regulates several key cellular activities including proliferation, differentiation, migration, survival and angiogenesis. Inappropriate activation of this pathway has been shown to occur in many cancers, in particular through mutations in BRAF, KRAS and NRAS
Binimetinib is licensed to Novartis. Novartis is responsible for development and commercialization of binimetinib, subject to ARRY's option to co-detail approved drugs in the United States. To date, ARRY has earned $60 million in up-front and milestone payments with the potential to earn another $408 million in additional milestone payments. ARRY is also entitled to royalties on worldwide sales of binimetinib. ARRY is paying a percentage of development costs up to a maximum amount with annual caps to maintain the maximum U.S. royalty rate for binimetinib.
ARRY will report financial results for the fourth quarter and full year of fiscal 2014 and hold a conference call to discuss those results on Tuesday, August 12, 2014. Ron Squarer, Chief Executive Officer and Michael Carruthers, Chief Financial Officer will lead the call.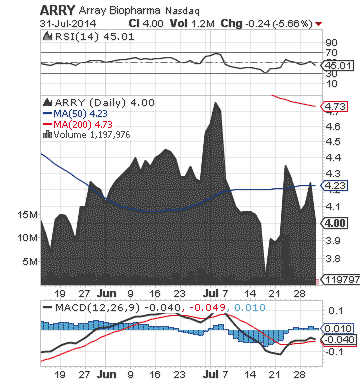 ARRY is a biopharmaceutical company focused on the discovery, development and commercialization of targeted small molecule drugs to treat patients afflicted with cancer.
More about Array BioPharma, Inc. (ARRY) at www.arraybiopharma.com.
**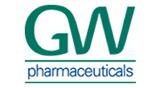 GW Pharmaceuticals plc (NASDAQ:GWPH)
Keep a close eye on GWPH. The company will announce on 6 August, 2014 its third quarter financial results for the period ending 30 June, 2014. GWPH will also host a conference call the same day at 1:00 p.m. BST (8:00 a.m. EDT).
GWPH recently raised gross proceeds of $126.3 million (before deducting underwriting discount, commissions and offering expenses) from a U.S. public offering of American Depositary Shares (ADSs) on the NASDAQ Global Market
GWPH commercialized the world's first plant-derived cannabinoid prescription drug, Sativex(NYSE:R), which is approved for the treatment of spasticity due to multiple sclerosis in 25 countries outside the United States. Sativex is also in Phase 3 clinical development as a potential treatment of pain in people with advanced cancer. This Phase 3 program is intended to support the submission of a New Drug Application for Sativex in cancer pain with the United States Food and Drug Administration (FDA) and in other markets around the world.
Recently, the FDA has granted Fast Track designation to GWPH's investigational cannabidiol product, Epidiolex(R), in the treatment of Dravet syndrome, a rare and catastrophic treatment-resistant form of childhood epilepsy for which there is currently no cure.
FDA's Fast Track program facilitates the development and review of drugs intended to treat serious conditions and fill an unmet medical need. A drug development program with Fast Track designation is afforded greater access to the FDA for the purpose of expediting the drug's development, review and potential approval to get important new drugs to the patient earlier.
In addition to Dravet syndrome, GWPH plans to conduct a clinical development program for Epidiolex in the treatment of Lennox-Gastaut syndrome (LGS). Following receipt earlier in 2014 of orphan drug designation by the FDA in LGS, GWPH expects to hold a pre-IND meeting with the FDA for Epidiolex in the treatment of LGS in mid-2014, and expects to conduct two Phase 3 trials in LGS during 2015.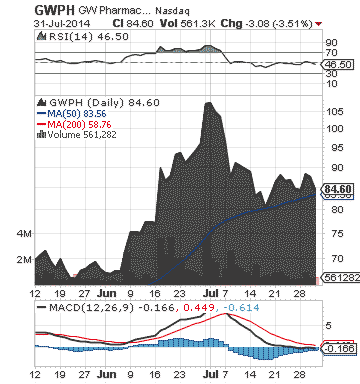 GWPH is a biopharmaceutical company focused on discovering, developing and commercializing novel therapeutics from its proprietary cannabinoid product platform in a broad range of disease areas.
More about GW Pharmaceuticals plc (GWPH) at www.gwpharm.com
**
Read Full Disclaimer at www.finance.crwe-pr.com/disclaimer
Disclosure: The author has no positions in any stocks mentioned, and no plans to initiate any positions within the next 72 hours.