ZaZa Energy Corp. (NASDAQ:ZAZA)
ZAZA reported that the company and an affiliate of Quantum Energy Partners entered into a Purchase and Sale Agreement, which includes an East Texas Development Agreement comprising Walker, Grimes, Madison, Trinity, and Houston counties.
Pursuant to the terms of the agreement:
- ZAZA will receive approximately $17 million of total consideration, consisting of both cash and ZAZA's right to receive Quantum's interest in the next 15 East Texas JV wells between the closing of the transaction and its second anniversary (the "Reserved Wells").
- ZAZA will assign to Quantum 6,000 net acres in undeveloped leases within ZAZA's East Texas JV. ZAZA retains its interest in all existing wells and the right to participate with respect to Quantum's working interest in the Reserved Wells. Following this assignment, ZAZA will have approx. 30,000 net acres in its East Texas JV and around 10,000 net acres in its East Texas focus area.
- ZAZA will receive ongoing G&A and cost reimbursements from Quantum for providing services related to their jointly owned assets in Walker, Grimes, Madison, Trinity, and Houston counties.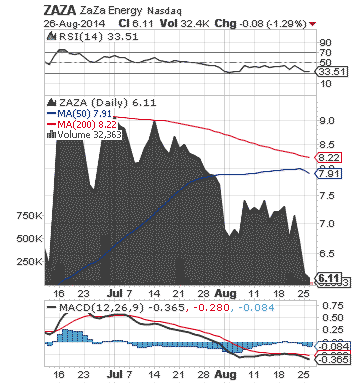 ZAZA is an exploration and production company with primary assets in the Eagle Ford and Eagle Ford East resource plays in Texas.
More about ZaZa Energy Corporation (ZAZA) at www.zazaenergy.com.
**

Vimicro International Corp. (NASDAQ:VIMC)
Keep a close eye on VIMC. The company reported solid financial and operational results.
For the second quarter 2014, VIMC posted net revenue of $24.0 million, compared to net revenue of $11.1 million in the same period the prior year and $16.4 million in the previous quarter, and non-GAAP net income of $2.8 million, compared to non-GAAP net loss of $5.5 million in the year-ago quarter, and non-GAAP net loss of $3.3 million in the first quarter of 2014
According to its business outlook for the third quarter of 2014, VIMC expects total revenues of $25 million to $27 million.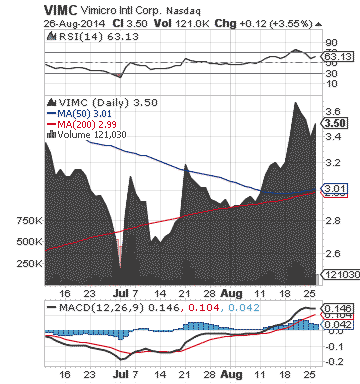 VIMC is a leading video surveillance technology and solution provider that designs, develops and markets a full range of video surveillance products and solutions to governments, private enterprises, and consumers in China.
More about Vimicro International Corp. (VIMC) at www.vimicro.com
**
Read Full Disclaimer at www.pennyomega.com/disclaimer
Disclosure: The author has no positions in any stocks mentioned, and no plans to initiate any positions within the next 72 hours.