El Pollo Loco Holdings, Inc. (NASDAQ:LOCO)
LOCO delivered strong performance on its first-ever earnings report as a public company.
For the second quarter 2014, LOCO posted total revenue of $86.9 million, a 6.3% increase year over year, and net income of $6.6 million, or $0.21 per diluted share, compared to $410,000, or $0.01 per diluted share, in the same period the prior year.
According to its business outlook for the full fiscal 2014, LOCO anticipates system-wide comparable restaurant sales growth of approximately 5.5% to 6.0% including a 5.0% to 5.5% increase for company-operated restaurants, and the opening of 9 to 11 new company-owned restaurants and 4 new franchised restaurants.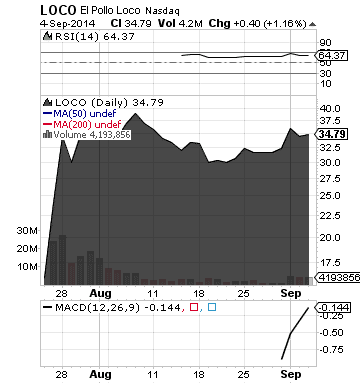 El Pollo Loco is a differentiated and growing restaurant concept that specializes in fire-grilling citrus-marinated chicken in front of its customers. El Pollo Loco opened its first location on Alvarado Street in Los Angeles, California, in 1980 and has grown to more than 400 company-owned and franchised restaurants in Arizona, California, Nevada, Texas and Utah. The Company's distinctive menu features its signature product - citrus-marinated fire-grilled chicken - and a variety of Mexican-inspired entrees that the Company and its franchisees create from that chicken.
More about El Pollo Loco Holdings, Inc. (LOCO) at www.elpolloloco.com
**

Nanosphere, Inc. (NASDAQ:NSPH)
NSPH is enhancing medicine through targeted molecular diagnostics that result in earlier disease detection, optimal patient treatment and improved healthcare economics.
The Verigene(NYSE:R) System uses NSPH's core proprietary gold nanoparticle chemistry to offer highly sensitive, highly specific molecular diagnostic results through low-cost multiplexing. NSPH's Verigene System rapidly and accurately detects infectious pathogens and drug resistance markers by targeting conserved genetic regions of a bacterium or virus. Currently, the multiplexed Verigene assays target infections of the bloodstream, respiratory tract and gastrointestinal tract.
The information gathered from Verigene test results enables clinicians to make informed patient treatment decisions more quickly, which may result in improved patient outcomes, reduced costs, optimized antibiotic therapy, and reduced spread of antibiotic resistance.
Three outcomes studies demonstrating the clinical and economic impact of the Verigene(R) Gram-Positive Blood Culture Nucleic Acid Test (BC-GP) will be presented at the 54th Interscience Conference on Antimicrobial Agents and Chemotherapy (ICAAC), to be held in Washington, DC on September 5 -- 9, 2014.
Each of the three studies paired Verigene BC-GP for rapid sepsis diagnostic testing with active antimicrobial stewardship programs to assess the impact on antimicrobial optimization and patient outcomes. Settings included two large teaching institutions and a non-teaching community hospital.
NSPH reported that it has engaged Jefferies LLC as its financial advisor to assist it in the development and evaluation of a full range of potential strategic alternatives for NSPH.
There can be no assurance that NSPH will enter into any strategic transaction in the future. NSPH does not plan to disclose or comment on developments regarding its strategic alternatives review process until further disclosure is deemed necessary or appropriate.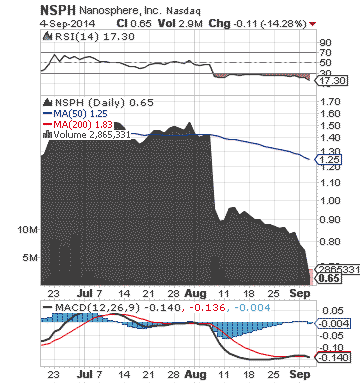 More about Nanosphere, Inc. (NSPH) at www.nanosphere.us
**
Read Full Disclaimer at www.finance.crwe-pr.com/disclaimer
Disclosure: The author has no positions in any stocks mentioned, and no plans to initiate any positions within the next 72 hours.